Criolipolisis Machine 360 Dubbele Kin Verwijderen Cryolipolysis Vacuüm Machine Ijs Vormgeven Pro
ODM/OEM cryo afslanken vet bevriezing koude therapie 360 Omliggende Cooling cryolipolysis vermagering machine.
EEN lichaam 360 cryo afslanken oplossing die doelen vet geschikt voor ALLE profielen en zorgen.ElkeUitwisselbaarCup van de cavism360 omliggende koeling is custom ontworpen om elk gebied van uw lichaamsvet voor de ultieme vet verwijdering behandeling.Krijgen onmiddellijke resultaten na je eerste behandeling.
Cryolipolyse Appareil Description
Product advantages and features
1、Double-channel refrigeration grease, double handles and double heads can work at the same time or independently, which is convenient and saves treatment time.
2、One 'press' and one 'install' probes are easy to replace, plug-and-play plug-in probes, safe and simple.
3 、 360-degree refrigeration without dead corners, larger treatment area, and full-scale freezing locally has a higher slimming effect.
4、Safe natural therapy: Controllable low-temperature cooling energy causes fat cell apoptosis in a non-invasive manner, does not damage surrounding tissues, reduces excess fat cells, and safely achieves a natural course of slimming and shaping.
5、Heating mode: A 3-minute heating stage can be selectively performed before cooling to accelerate local blood circulation.
6、Equipped with a special antifreeze film to protect the skin. Avoid frostbite and protect the subcutaneous organs.
7 、 The five-stage negative pressure intensity is controllable, the comfort is improved, and the treatment discomfort is effectively reduced.
8、No recovery period: Apoptosis allows fat cells to undergo a natural death process. Reduction on Hypodermic fat layer 90days 30days 0day
9、The probe is made of soft medical silicone material, which is safe, colorless and odorless, and has a soft and comfortable touch.
10 、 According to the connection of each cooling probe, the system will automatically identify the treatment site of each probe.
11、The built-in temperature sensor ensures the safety of temperature control; the instrument comes with automatic detection of water flow and water temperature to ensure the safety of the water system.
Working mechanism:
The ideal temperature - 9 ℃ which can induce adipocyte apoptosis is cooling energy to achieve non-invasive and powerful lipid-lowering.Different from adipocyte necrosis, adipocyte apoptosis is a natural form of cell death. It's to maintain the stability of the internal environment. Cells die in an autonomous and orderly manner, thereby effectively reducing fat cells without causing damage to surrounding tissues.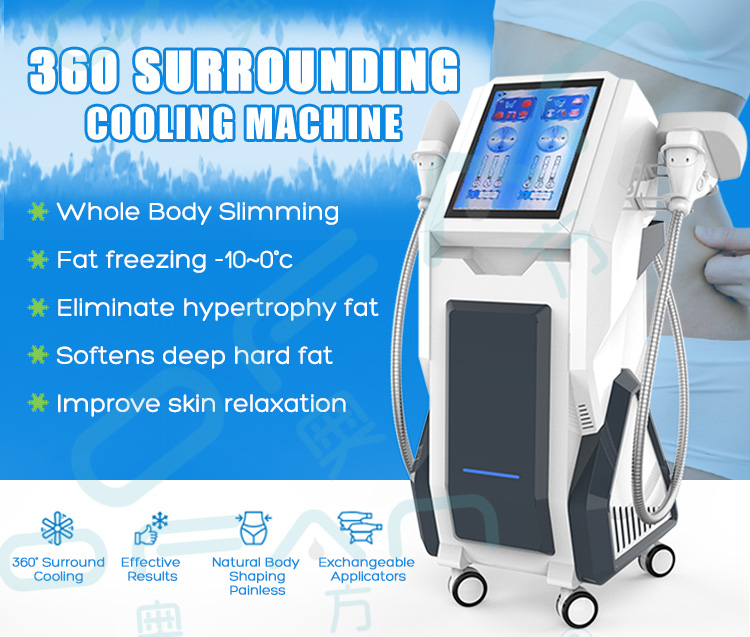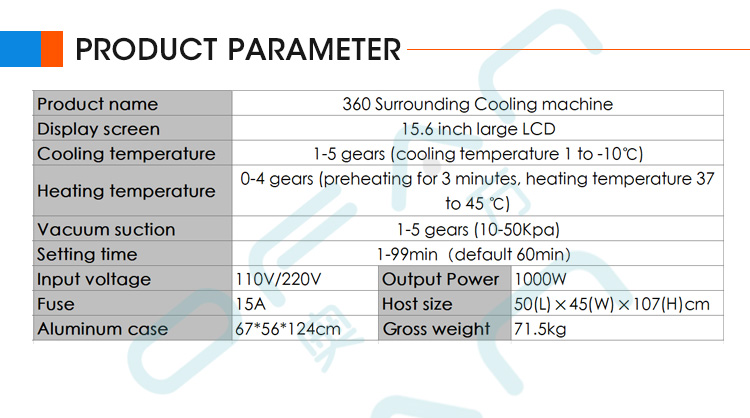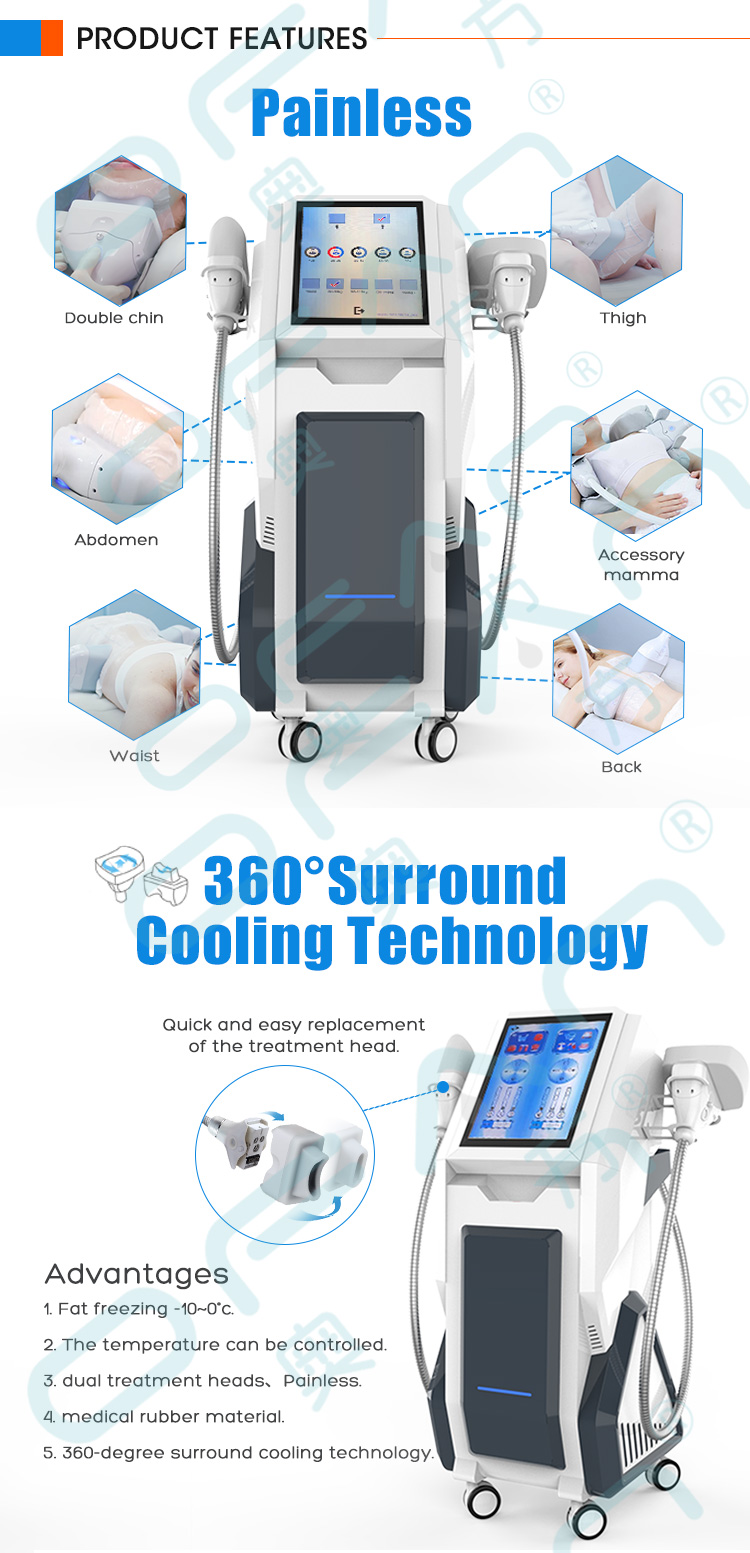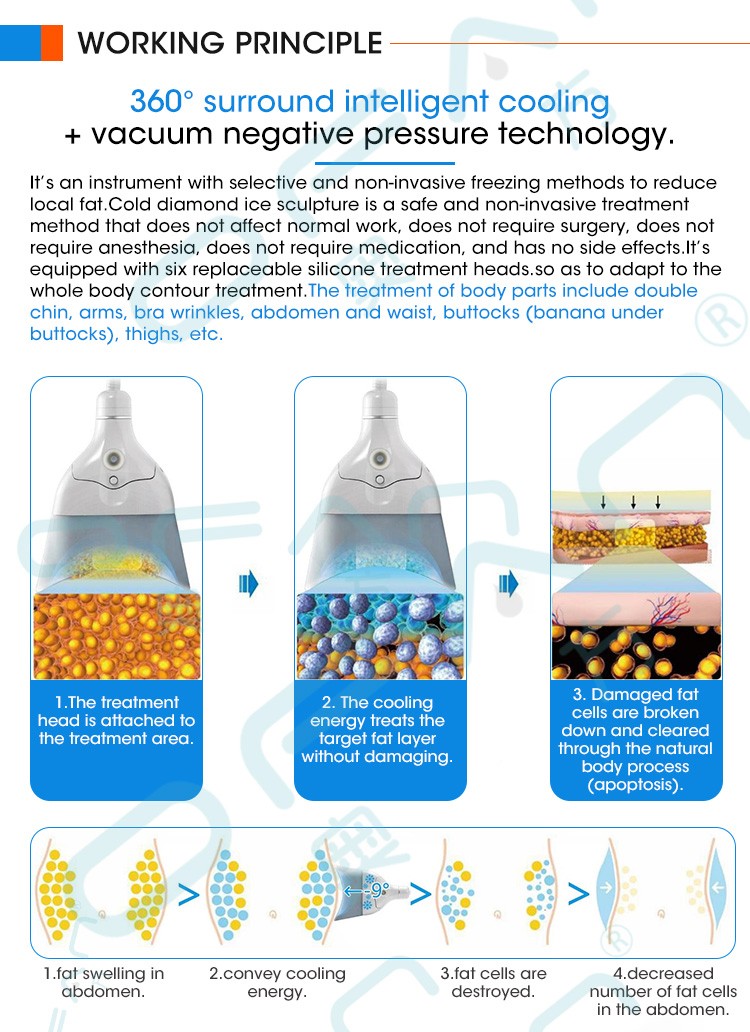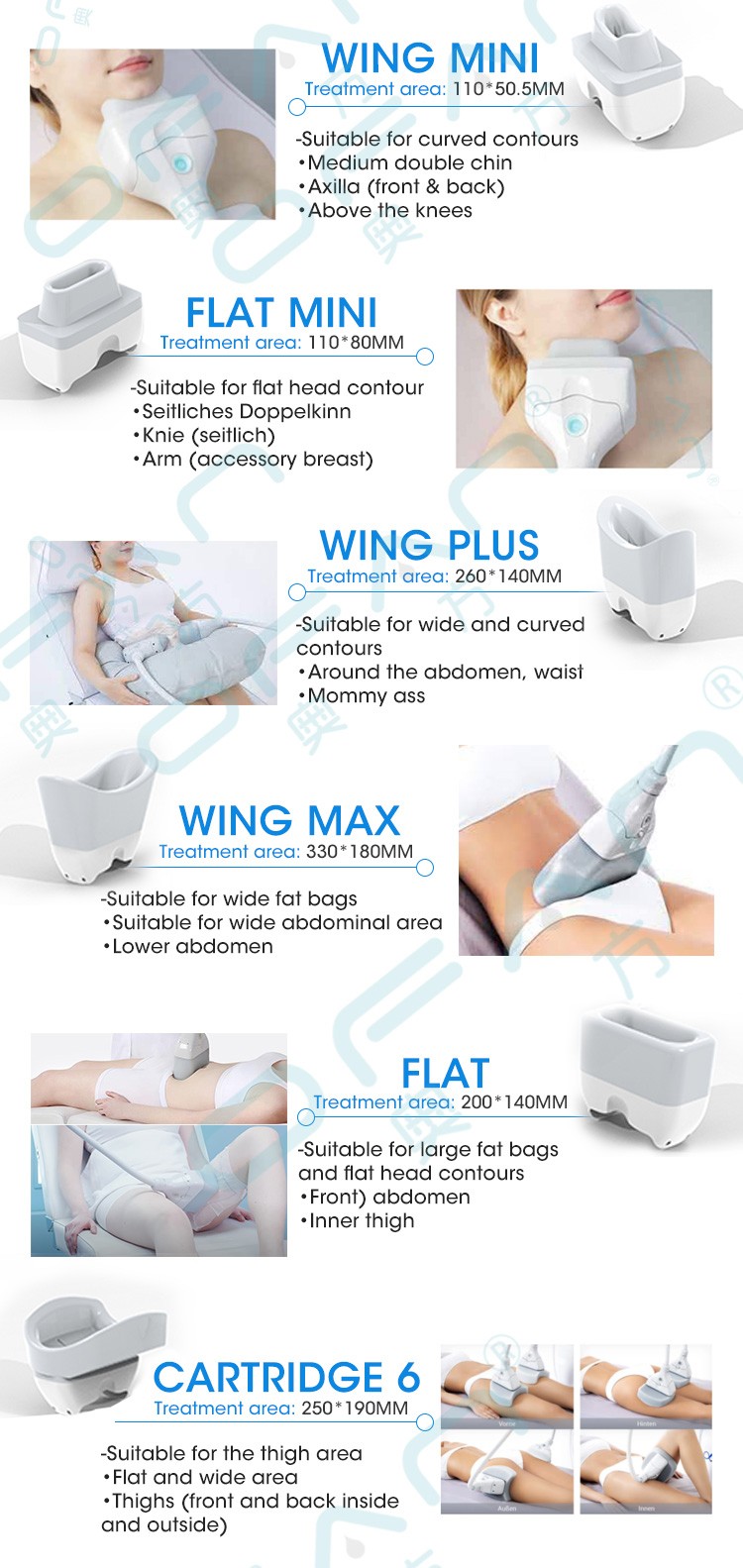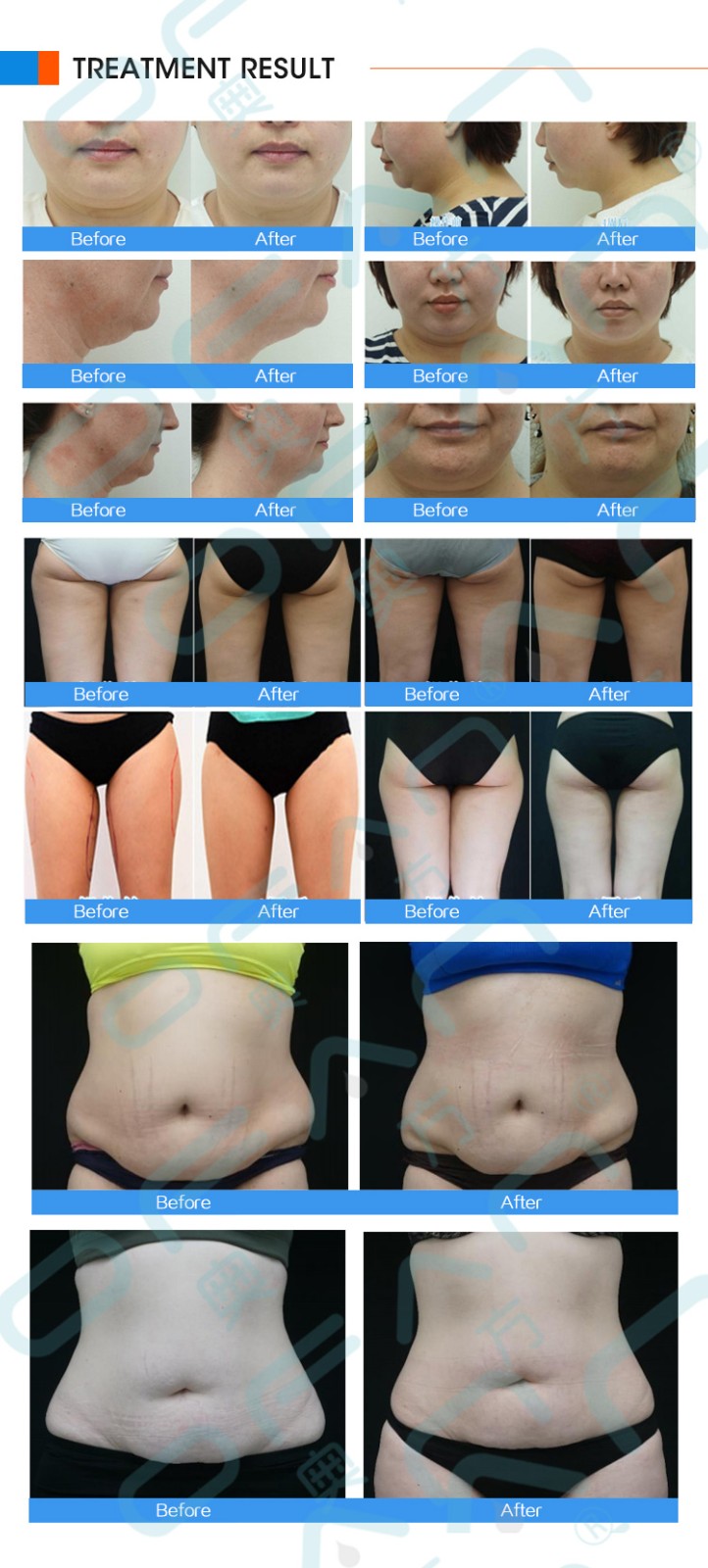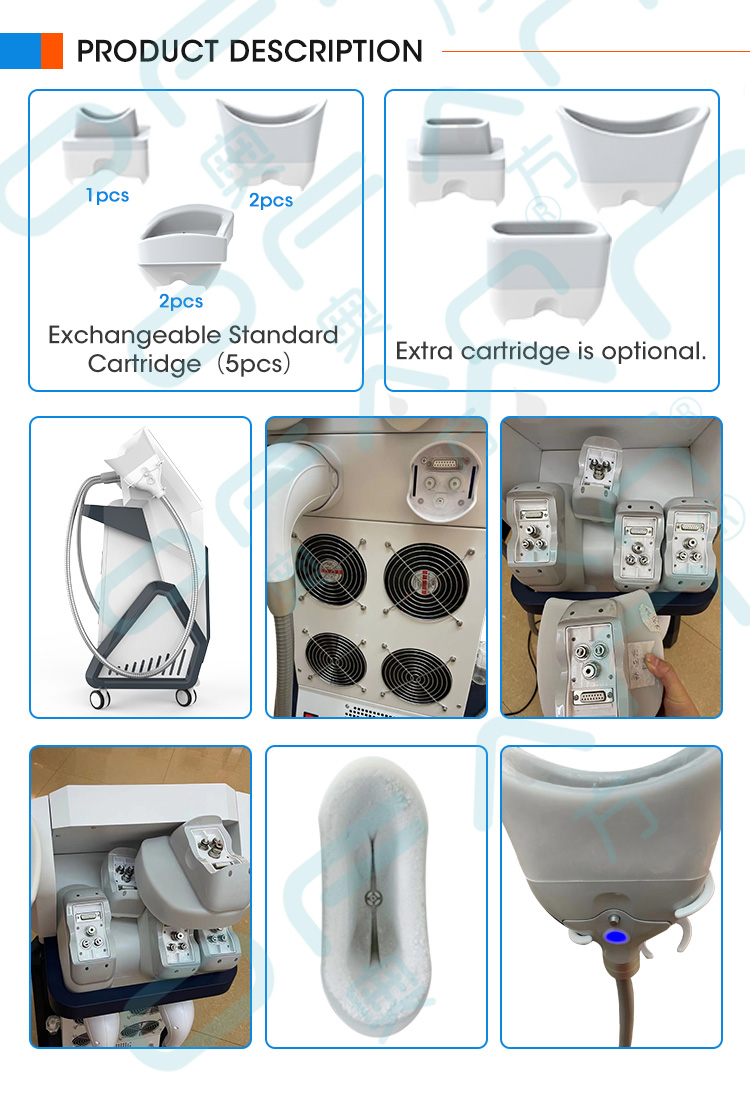 Main Efficacy
Ways to improve the effect of treatment
After Cryolipolyse Appareil treatment, you can use the following methods to improve the effect!
1. Weigh every day
2. Try to lose 50 grams per day on average
3. Every Wednesday to four days, follow the 4P diet, that is, do not eat bread, pasta, potatoes and pastries.
4. In these days, people prefer foods rich in vegetables and protein.
5. Do not drink more than 2 cups of coffee a day (Coffee will increase estrogen, leading to increased calorie storage)
6. Do not drink fruit juice or sugary beverages whether it is light or normal.
7. Use soda water instead of sugary drinks to make the taste lighter.
8. Drink 2 liters of water a day
9. Take long walks twice a week (preferably two hours)
When you lose 1 to 3 kg of body weight after treatment, the best effect of freezing fat can be observed.
Frozen lipolysis refers to the destruction of fat by cold. It aims to crystallize the fat contained in fat cells (adipocytes) to trigger their "programmed death" (apoptosis). Therefore, cryolipolysis can take advantage of the sensitivity of fat cells (adipocytes) to cold, exposing the desired area to intensive and deep cooling for one hour. Fat cells are damaged and then affected in two stages:

Some fat cells are directly affected during training and will be excreted by the lymphatic system* 2, 4
The other part will spontaneously self-destruct and will be gradually metabolized by the liver within a few weeks 2, 4
In short, fat cells are sensitive to cold.
Who is Cryolipolyse Appareil suitable for?
Cryolipolysis aims to reduce local fat. Therefore, ideal customers are those who are not obese (BMI<30), but want to reduce local and concentrated excess fat, such as the abdomen, inside and outside the thighs, saddle bags, back or arms.