Laser hair removal machine
Longtree diode laser hair removal comes with 808nm wavelength laser stack or 755+808+1064 triple wavelength laser stack with semiconductors technology. They are assembled together to produce light for permanent hair removal/hair reduction/depilation/epilation treatment!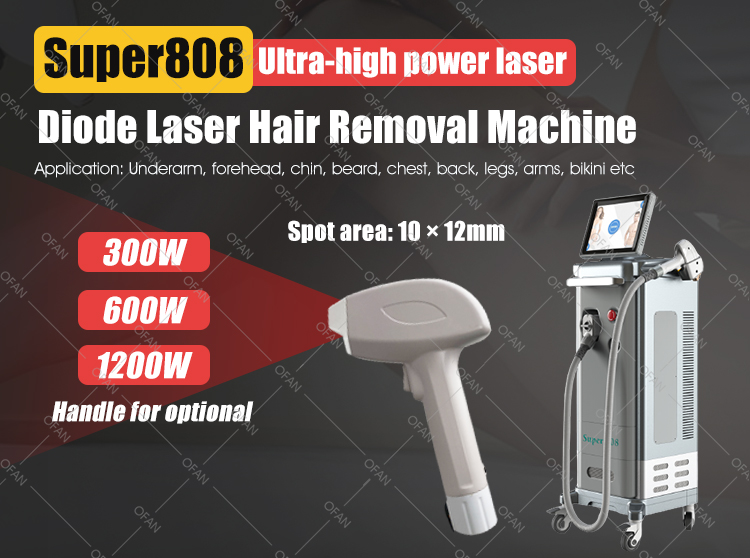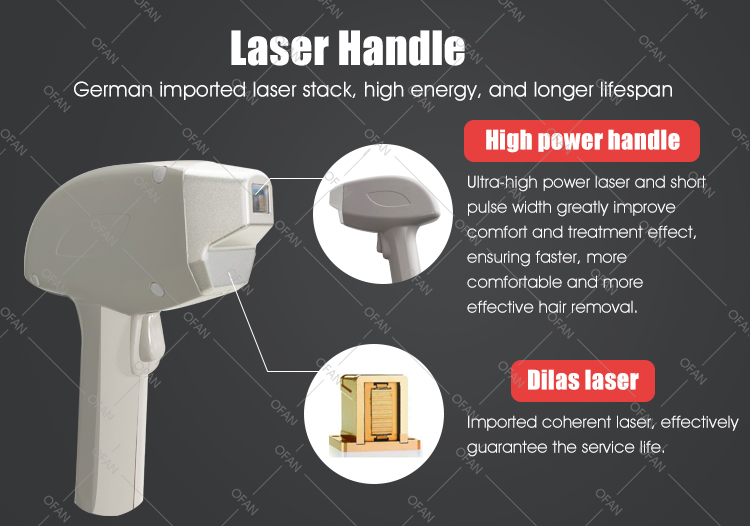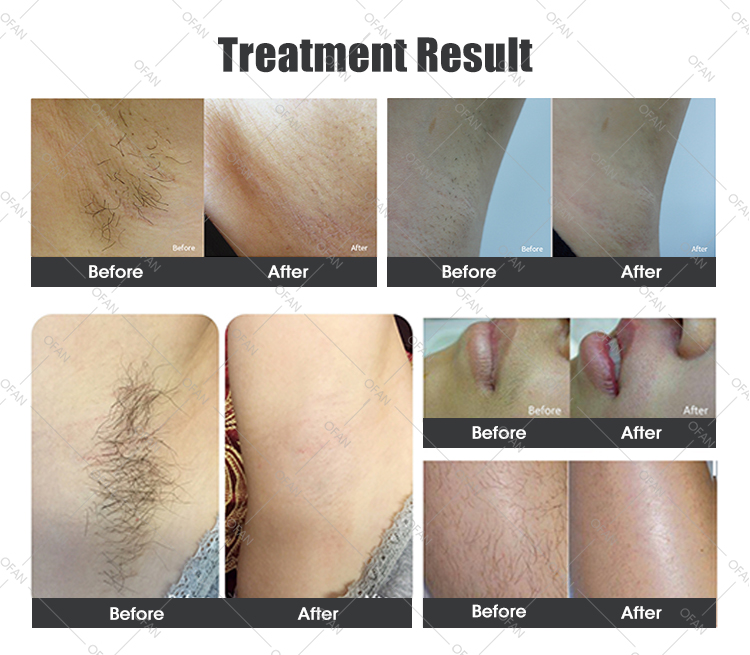 Advantages and accessories
1. Ultra-high power laser and short pulse width greatly improve comfort and treatment effect, ensuring faster, more comfortable and more effective hair removal.
2. Imported coherent laser stack, effectively guarantee the service life.
3. The hand piece connector is newest alma laser self-locking type, which can prevent the hand piece from falling down and leaking water. If there is looseness, the indicator light will be on.
4. The 10.4-inch Devine ultra-large luxury touch screen is anti-UV glare, stable and reliable
5. 5L capacity, One piece Safe and durable, Stable performance Low noise long life
6. . Newest TEC cooling guarantees machine 24hours woring.
7. Independent research and development, system can be customized.
Features
The best in the industry for progressive fluency. (heats the hair follicle very slowly) - rather than simply blowing out unwanted hair in a very uncomfortable way.
No need for gels or analgesics.
Permanent reduction for all coloured hair and all skin types - including tanned skin. - This flexibility makes it ideal for doctors and medical spa professionals.
The fastest coverage in the industry with a huge 12x10mm spot and a repeat rate of up to 10Hz.
No consumables and cost effective.
808nm diode laser wavelength is the gold standard for hair removal
ABS injection moulded material housing.
Truly painless and safe laser hair removal treatment.
Imported diode laser wand with optional 300W/600W/800W output power, further guaranteeing mechanical performance, clinical results and safety.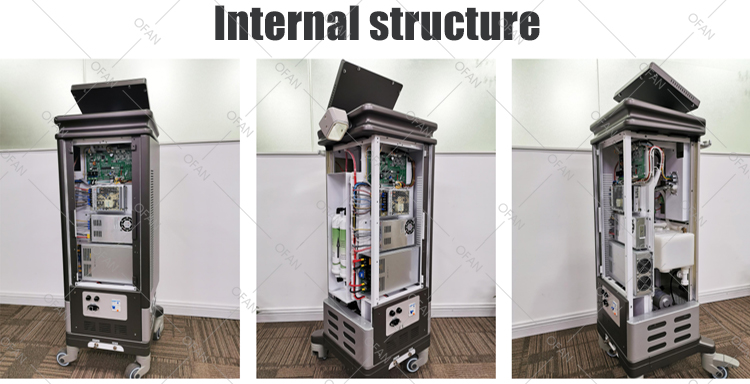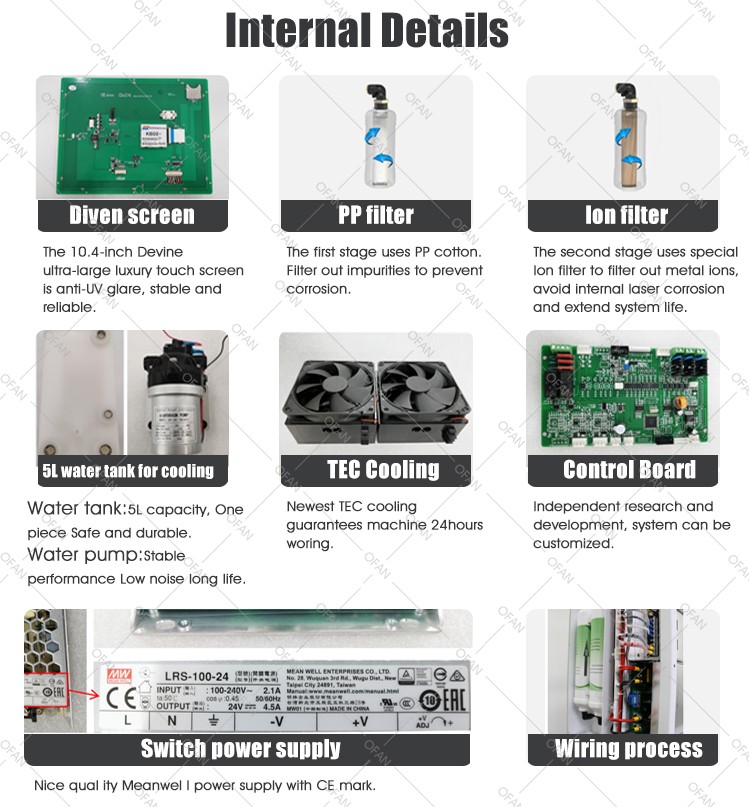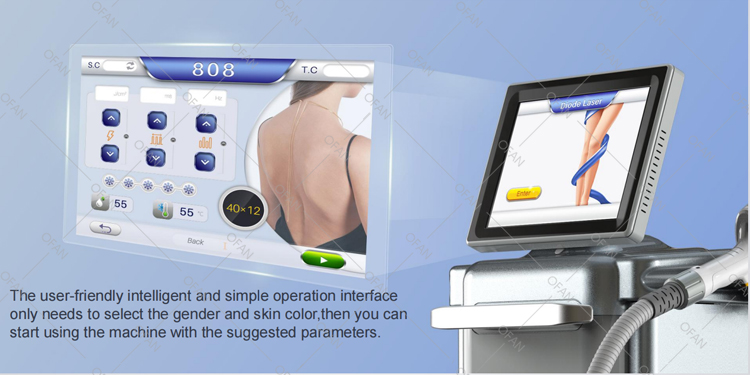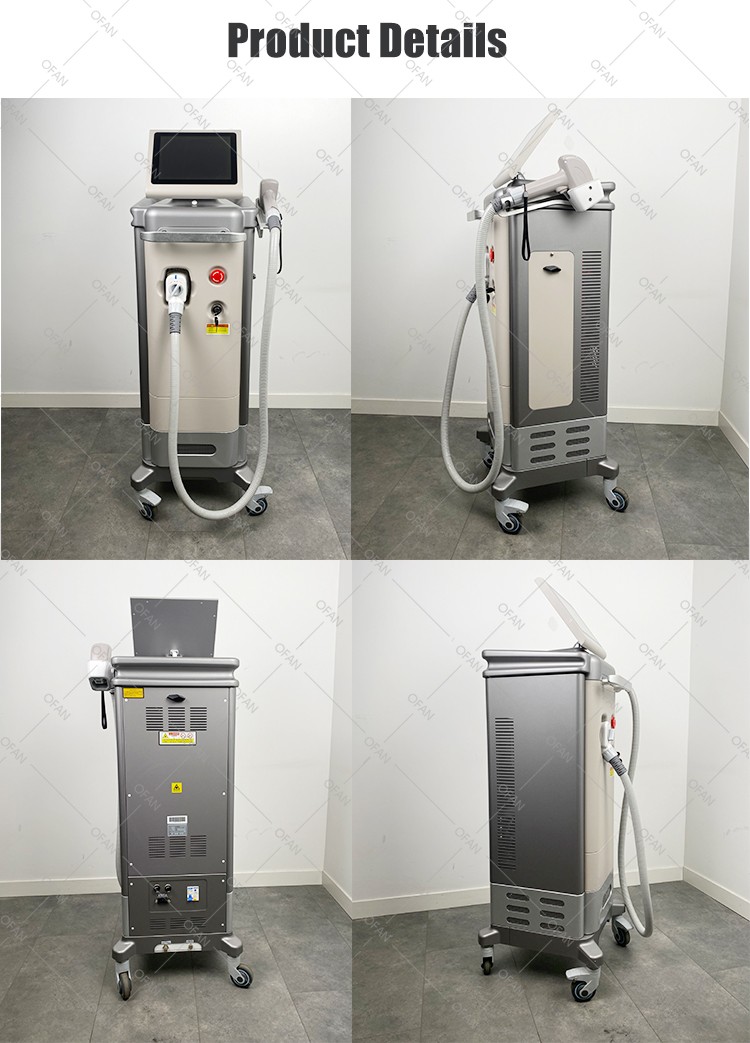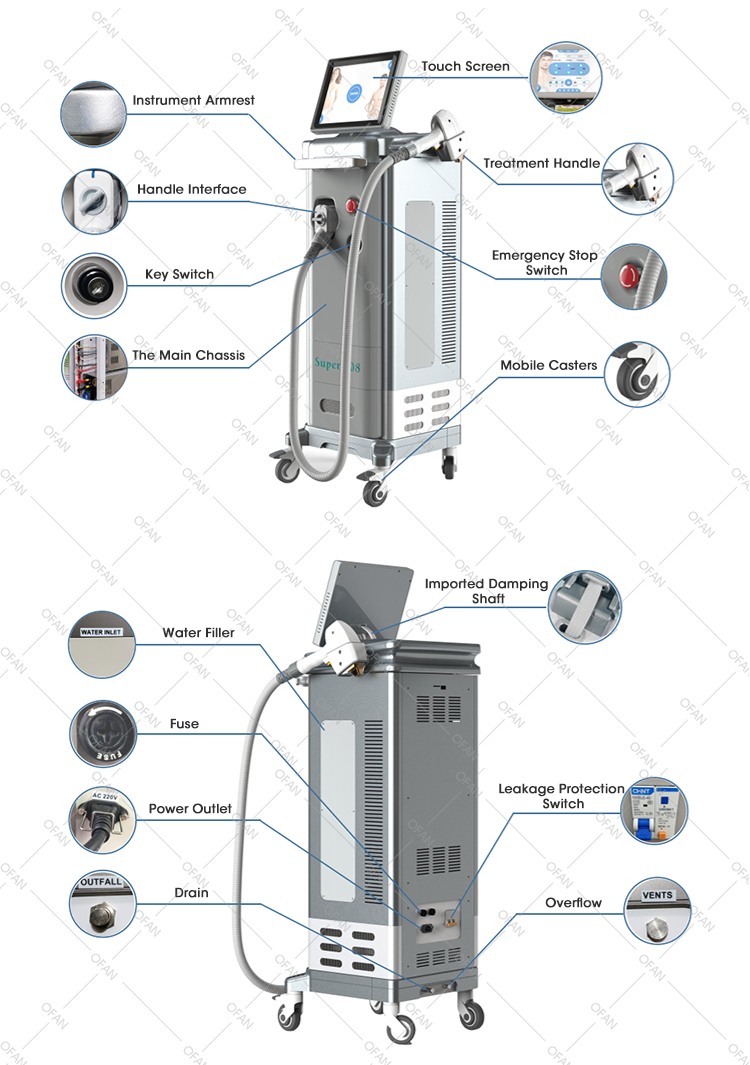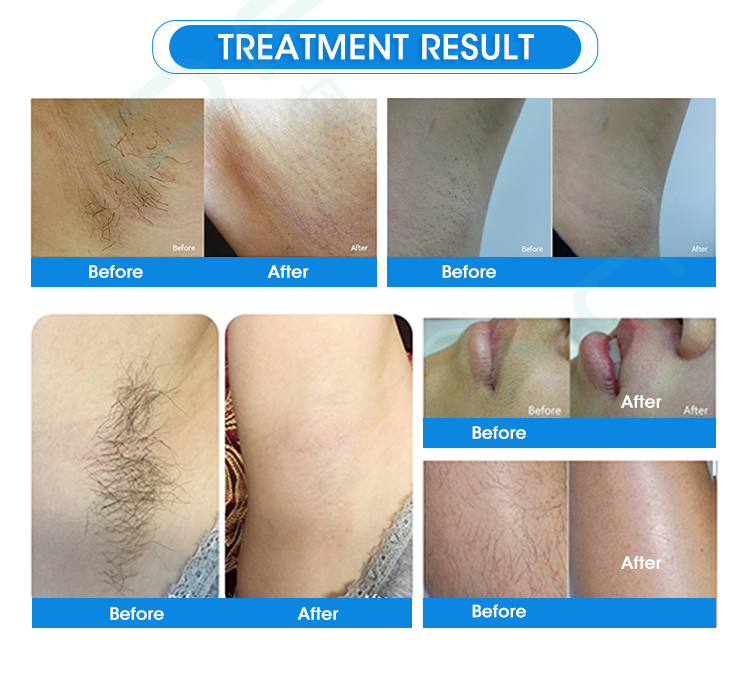 Details and Specifications
Technical Parameters
Laser Type: Semiconductor Laser
Model: Super808
Handpiece pipe length: 1.8M
Wavelength: 808nm / 770-860nm / 1530-1575nm
Handpiece weight: 1.2KG
Spot area: 10 x 12mm
Energy density: 20-120J / cm2
Pulse frequency: 1-10Hz
Laser power: 300W/600W/1200W
Pulse width: 30-400ms
Voltage: 220/ 110V 50/60Hz
Screen size: 12.4 inche
Machine size: 100*42*48cm
Package Weight: 72KG
Package size: 56 x 55x 126cm
Machine Net Weight: 49KG
808nm diode laser hair removal machine principle
The 808nm Diode Laser Hair Removal Machine is the gold standard for permanent laser hair removal. The diode laser is absorbed by the hair and hair follicles in the melanin and converted into heat, which raises the temperature of the hair follicles. When the temperature is raised enough to irreversibly destroy the hair follicle structure, the hair follicle in the follicle disappears after a period of natural physiological processes, resulting in permanent hair removal.
Diode laser technology
Treatment handpiece cooling is very important, especially in summer or in hot environments. OFAN aims to protect the outer layer of the skin by reducing the surface temperature and preventing thermal damage caused by the laser beam. The powerful Sapphire contact cooling system is pain-free during the procedure, increasing comfort during treatment. The ergonomic and lightweight design makes treatment more comfortable for the practitioner and more enjoyable for the patient.
Diode laser technology is one of the most popular methods of permanent hair removal used by clinics and spa professionals around the world.
SHR hair removal works by gradually heating the dermis to a temperature that effectively damages the hair follicle and prevents re-growth, combined with the cooling of the sapphire double cool head, making it very comfortable and eliminating the need for gels or analgesics. While avoiding damage to the surrounding tissue.
With high average power and a fast repetition rate of 10 pulses per second, these short pulses are delivered into the dermis and produce treatment effective heat with little to no pain.
Full motion technology that moves the applicator repeatedly to the treatment area ensures complete coverage, while ChillTip technology cools the skin surface - preventing surface burns and allowing virtually painless but highly effective hair removal. The energy is delivered safely and evenly to ensure patient comfort, while eliminating skipped spots to ensure full coverage - significantly improving diode laser hair removal results.
The powerful sapphire contact cooling system is painless during the procedure, increasing comfort during the treatment.
Intuitive diode laser hair removal LCD touchscreen: easy to operate and user-friendly
Select language.
Select skin type.
Select hair colour.
Set the current.
Set frequency.
Set the pulse width.
Ready to use
Apply cold gel to the treatment area.
We can start the treatment according to the recommended parameters. Patients have different reactions to the procedure and there are differences between clients. During the laser hair removal treatment, we can change the parameters according to the patient's response.
What is the difference between a diode laser and an IPL?
Colour Light
Intense Pulsed Light (abbreviated IPL) describes the use of intense pulses of incoherent light distributed over a range of wavelengths; from 400 nm to 1200 nm.
The technology uses a specific range of wavelengths to target various chromophores in the skin. This can be effective in treating a wide range of conditions including vascular and pigmented lesions, skin rejuvenation and hair removal.
Diode lasers
The diode laser uses semiconductor technology to produce coherently projected light in the visible to infrared range. It uses a beam of light with a narrow spectrum to target specific chromophores in the skin. The 808nm diode laser wavelength offers the deepest penetration levels and superior melanin absorption compared to other laser systems. These unique characteristics make the diode laser the most suitable technology for laser hair removal with optimal hair removal results and the ability to safely and effectively treat all skin and hair types throughout the body.
Laser hair removal equipment costs and ipl machine costs
Diode laser machines cost more than IPL machines. However, diode laser treatment is safer, faster and more effective than IPL hair removal. If you want to know how much an ipl machine or a professional laser removal machine costs?
Safe
Diode laser treatment is safe for all skin types. IPL machines are not suitable for dark or dark skin.
Treatment
Diode laser hair removal treatments require 3 to 5 sessions to permanently reduce hair. Whereas IPL hair removal takes 6 to 12 sessions.
What can you expect after hair removal?
The appearance of the treated area immediately after treatment varies from patient to patient, depending on the extent of the procedure and skin type. Side effects are rare and if they do occur, they are usually mild. They may include redness and swelling around the hair follicle, which is actually a positive clinical result indicating that the follicle is responding to the treatment. Most people return to normal activities immediately after hair removal.
Laser hair removal requires multiple treatments. This is because the laser works best when the hair is in its early growth phase (called anagen) and all hairs are not in this phase at the same time.
The hair growth cycle
The hair growth cycle is cyclical and each cycle consists of anagen, regression and resting phases. Generally, the anagen phase is about 3 years, the regression phase about 3 weeks and the resting phase about 3 months; the hair cycle varies according to the hair in different areas of the skin. The length of hair in different areas is related to the anagen phase, for example. Eyebrows have an anagen phase of about 2 months.