Advantages

This Hair Treatment Machine is the perfect hair loss treatment to increase the strength and density of hair for both men and women. This treatment is mainly beneficial for.
Hair loss due to endocrine hormone overproduction.
Increasing hair density after hair transplantation.
Hair loss caused by pathogenic and neurological problems.
Treatment of postpartum hair loss and reduced hair density.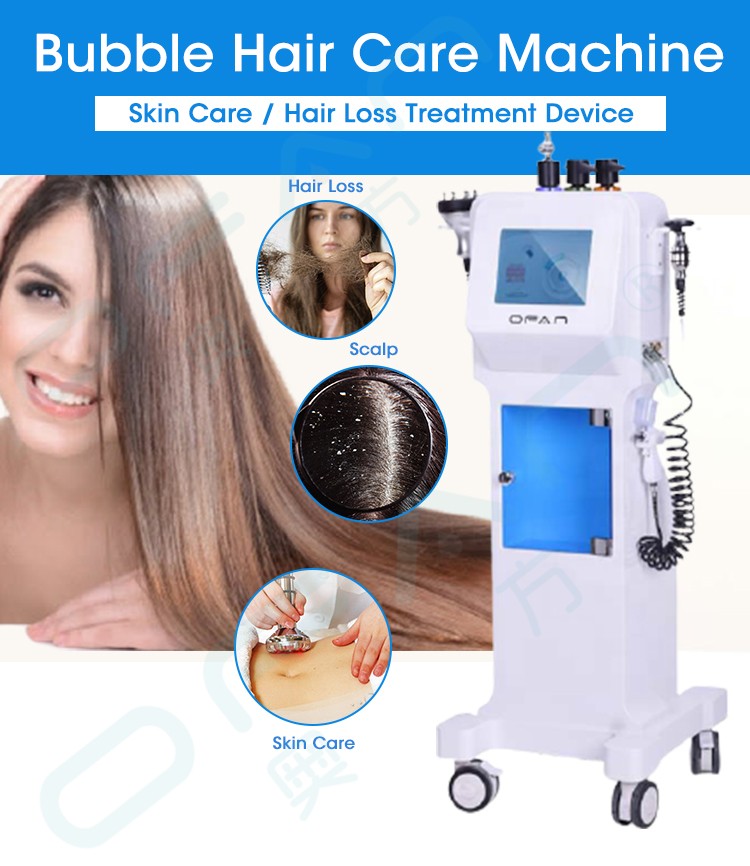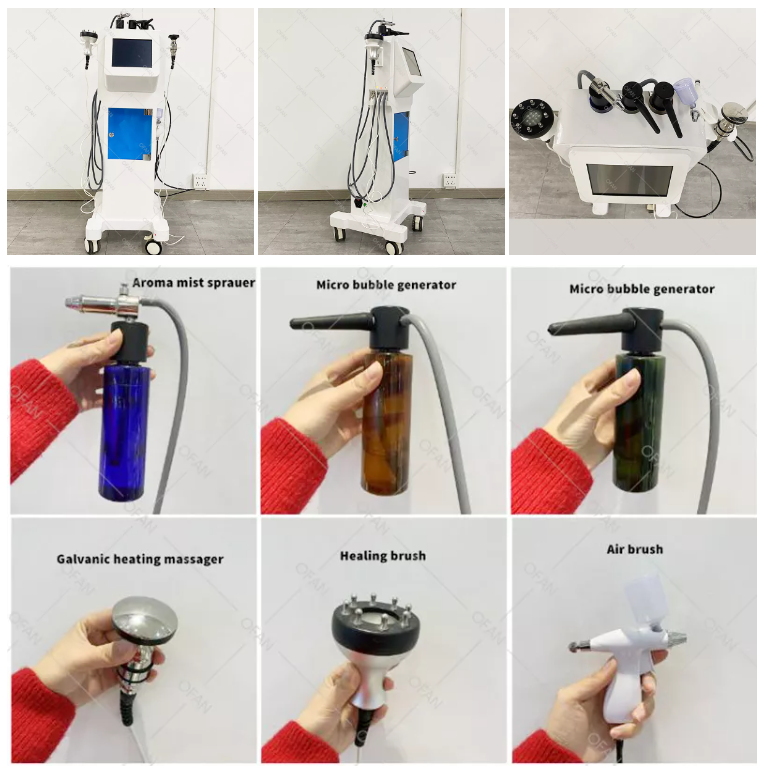 1.Aroma mist sprauer (use with scalp cleaner or essential oil )
◆Use pure water or distilled water to put 3-4 drops of essential oil(or scalp cleaner ) and spray it (the air sprayed from the instrument is negativeion air, and the aromatherapy is used to humidify and inject oxygen)
2.Micro bubble generator brown (Shampoo with tiny foam)
◆Fill the plastic bottle with shampoo and water and mix in the right amount. After blocking the round holes on the bottle cap, you can spray foam to dry the hair.
◆The general mixing ratio of shampoo is water: shampoo= 5: 1(Different according to the concentration ratio of shampoo)
3.Micro bubble generator green (hair loss nurtrient solution)
◆use hair loss nurtrient solution to the hair
4.Galvanic heat massage
◆After applying massage cream to the massage area
◆Adjust the "+" and "-" buttons under the screen time, energy and heat
5. photon healing brush
◆Red and blue laser beams that are repeatedly iradiated by micro-wave vibration and ion introduction promote the remark circulation of the head and achieve sterilization and stabilization, improve the scalp and promote hair regeneration and other multifunctional laser soothing devices.
6.Air brush
◆Pour the water-based essence into a watering can and spray the scalp evenly with negative ions.
Standard
Not every hair growth treatment is viable and able to rectify the hair loss. Some treatments will have major side effect on our body; hence the best hair treatment is one which needs to fulfill the below mentioned criteria:
Treatment should be painless.
Patient should review the treatment is safe and comfortable.
Effectively removes any kind of hair i., e thick (coarse) and thin (fine) hair.
Results should be long lasting results.
Patient should not report any kind of major side effects.