The 5d Hifu radar ice sculpture combines the precision radar automatic tracking system and mechanical radar waves to accurately locate the deep layer of the skin, fascia layer, fat layer, and muscle layer, and actively identify fat cells, fibroblasts, and collagen cells. Smooth the skin, remove wrinkles, reshape the face, create a V face and scrub age anti-aging.
5d Hifu uses a mechanical millimeter-wave radar with good tissue penetration to accurately transfer 65 degrees of heat to the SMAS layer of the skin (about 3.5mm~4.5mm), effectively stimulating fibroblasts to divide at a rate of 40 times per second New cells dissolve facial fat cells, tighten skin contours, repair damaged fibrous tissue, stimulate collagen cell regeneration, and quickly achieve the effect of face-lifting, firming, and elasticity. At the same time, the precise positioning of 5d Hifu radar waves can be used to actively identify fat cells. Through the unique self-cooling mode, the massage therapy mode is used to reach the depth of the target. So that the patient does not feel pain.
The mechanical millimeter wave radar transmits 65 degrees of heat energy to the SMAS layer (approximately 3.5mm to 4.5mm), causing thermal coagulation, shrinking the skin, regenerating collagen, tightening the skin, removing wrinkles, improving relaxation, and reshaping the contours.
Mechanical millimeter-wave radar is used for precise positioning. 5d Hifu can actively identify fat cells and has a good blasting effect on subcutaneous fat tissue. It has the effects of anti-cellulite, face-lifting, slimming and so on.
The unique self-cooling mode effectively protects the epidermis without damaging nerves and muscle tissues. Improve skin immunity and resistance.
Unique massage treatment mode, simple and convenient operation, non-invasive and painless.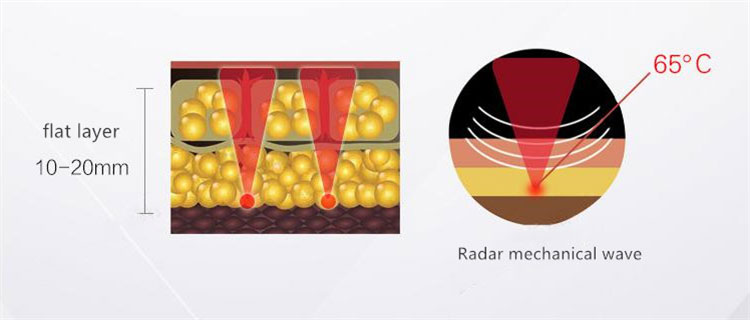 1. Facial lifting, reshaping contours, Tightening the eyes, cheeks, forehead and neck, improve the contour of all facial.
2. Skin firming, improve relaxation skin, stimulate collagen regeneration in the body, increase collagen content in skin, increase the skin elasticity, restore skin firm, review plump young skin
3. Increase metabolism, reverse aging - promote the decomposition of subcutaneous fat and the metabolism of collagen cells, stimulate the spontaneous proliferation and reorganization of elastic fibers, reverse the process of aging due to the loss of collagen cells.
4. Control the secretion of facial oils, contract facial pores.
5. Remove wrinkles, such as crow's feet, forehead line, eyebrow, squatting, ears, lips, nasolabial furrows, and neck wrinkles, to review smooth skin.
Model
V line Hifu; portable W/ case holder
Functions
Face tightening, wrinkle removal
Engery mode
Hifu, Radio Frequency, Freezing
Temperature
3-8°
Frequency
Hifu: 4MHZ/7Mhz; RF: 1Mhz
Cartridges
3 Depth: 1.5mm & 3.0 & 4.5mm
80,000shots/cartridge
Control way
8 inches touchable screen
Power and voltage
150W/110-240V, 50/60Hz