Break up dark pigment: The picosecond pen can effectively resolve melanin into fine particles, so as to promote skin metabolism and reduce melanin deposits, comprehensive reduce freckles and dark spots, refine skin from within way give off a healthy glow
Professional safe removal pen: Without hurting the normal skin, no bleeding and little pain. This device is high-tech and utilises electric ion carbonation functions, turning the voltage instantaneous discharge into elecric ion heat for cabonizing
More faster: Wide customer application range, powerful and rapid energy breaks up dark pigment directly. Fewer treatment times, better treatment effects
More safe to apply: Its pulse width is short, it hardly produces light and heat effect. Long-term use will ensure more obvious effect, it's more durable and safe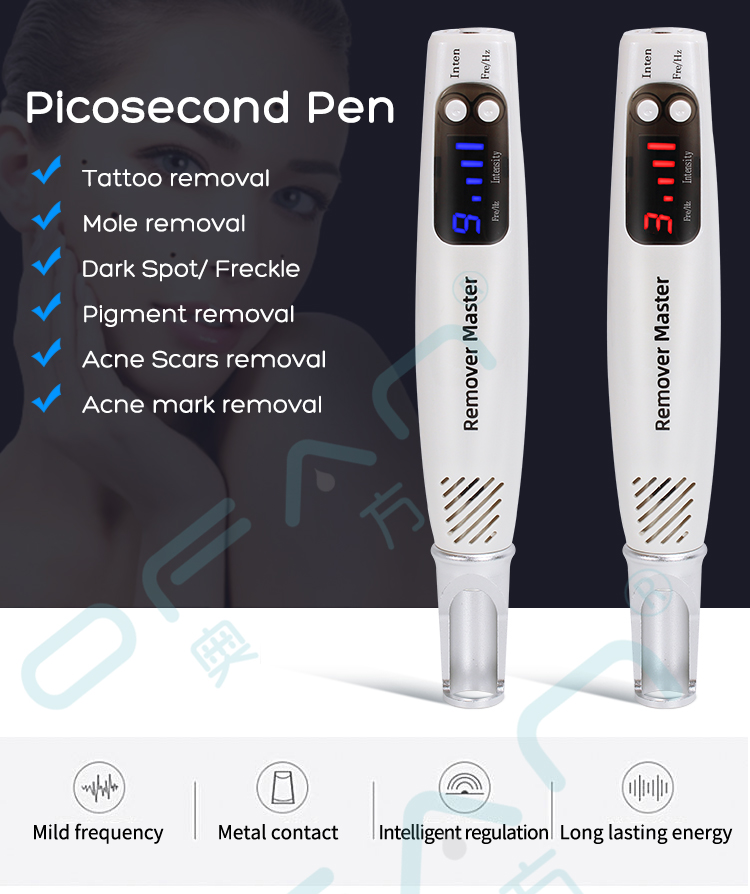 Functions:
1. Tattoo removal: If you have a Black Color tattoo, then you can choose Red light.
If you have colorful tattoo , you can choose Blue light . Note: the color of the tattoo should be deep , slight color can not be removed by device
2. Mole removal
3. Dark Spot/ Freckle/ Pigment removal
4. Eye brow microblading Cleaning
5. Acne mark removal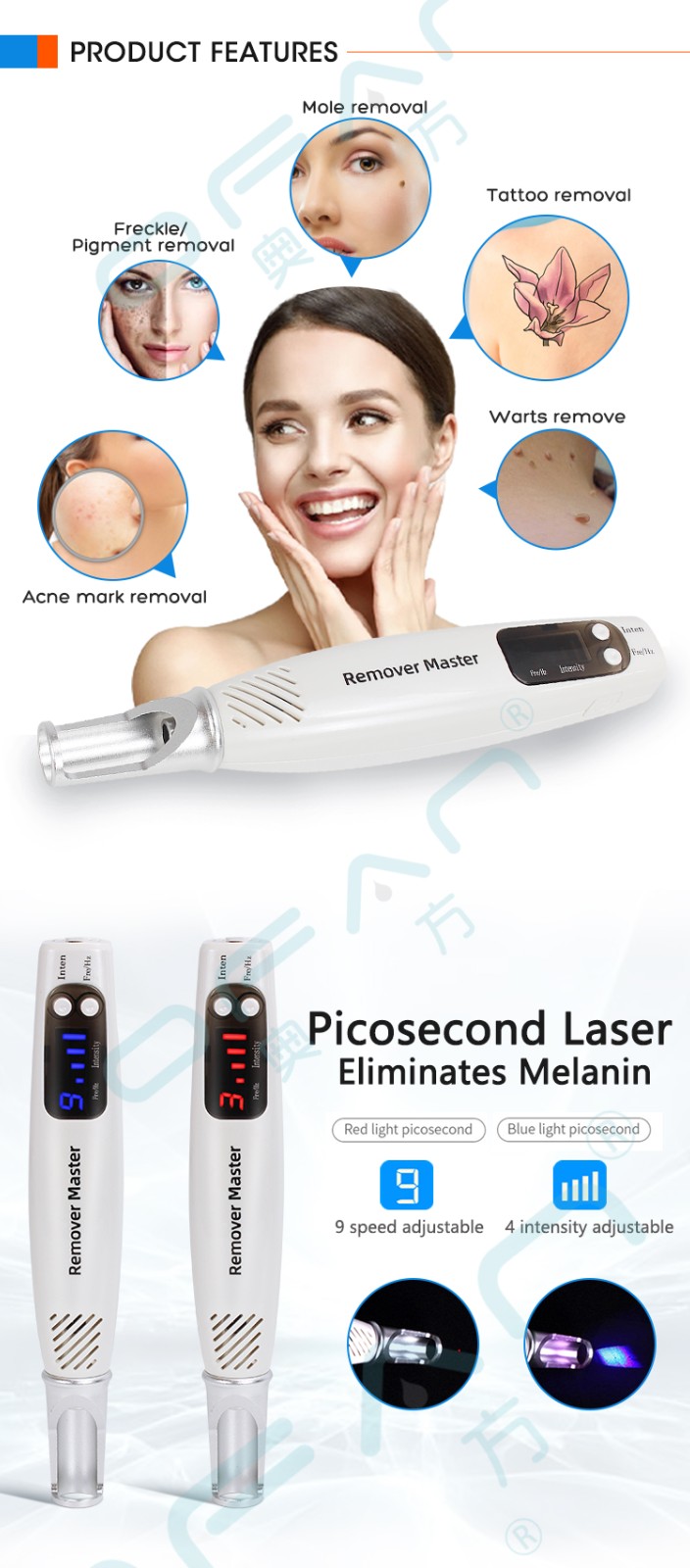 Advantage:
1.Efficient
The laser beam can effectively resolve melanin into fine particles, so as to promote skin metabolism and reduce melanin deposits.
2.Faster
Faster laser beam and more focused laser energy to clean and remove long-standing melanin problems.
3.Effective
More powerful laser beam, cause no damages to skin tissues and clean more comprehensively.
4.Comprehensive
Reduce freckles and dark spots, refine skin from within way.
5.Safer
No damages and hurts to skin tissues, safe to use.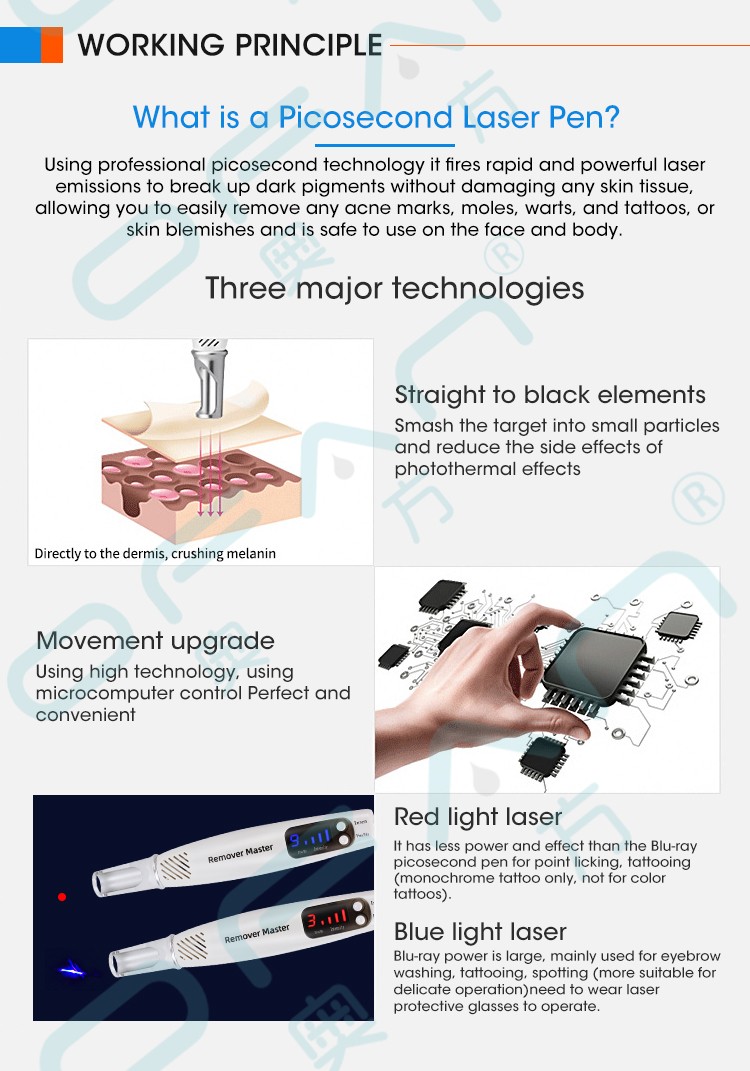 Difference between Red light picosecond & Blue light picosecond:
-The power and effect of blue light picosecond pen is more stronger and need to be used gradually and with caution. Please start from the lowest frequency, then slowly adjust to a suitable level.
-The blue laser pen has a 9 level frequency mode, combining different output frequwavfrequencieselengths. The flash area is also larger.
-The red laser pen has 3 frequency modes and its flash area is smaller. It suitable for subtle operation.
-Both devices are suitable for removing tattoos, mole, freckles ect and apply in the use for melanin.