Cavitation Rf Equipment video:
BBL slimming is using parallel RF, cavitation and cooling technology integrated in one head. It provide ultimate shape of sculpture by very comfortable experiences by improving body of local fat accumulation, firming the skin and eliminate cellulite.
The ternary helical structure of collagen fibers is affected by heat and begins to disintegrate. Focused single-stage radio frequency can quickly and effectively break down collagen fibers, separation of collagen tissue structure. The natural healing process, which stimulates collagen fibrils, makes it active in making new collagen fibers. The new amount of collagen is reassembled in the skin structure.
Safe, convenient and more effective treatment square centimetre
EFC (energy flow control system) software can control the energy flow and automatically eliminate energy peaks. This process is known as a square (flat top) spectrum energy profile that is unique to the high frequency treatment equipment. It ensures uniform energy distribution for safer, more convenient and more effective treatment.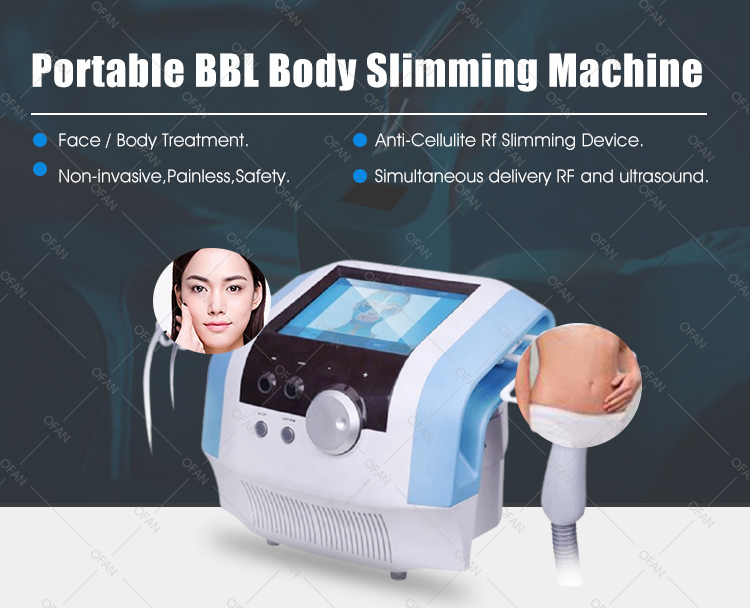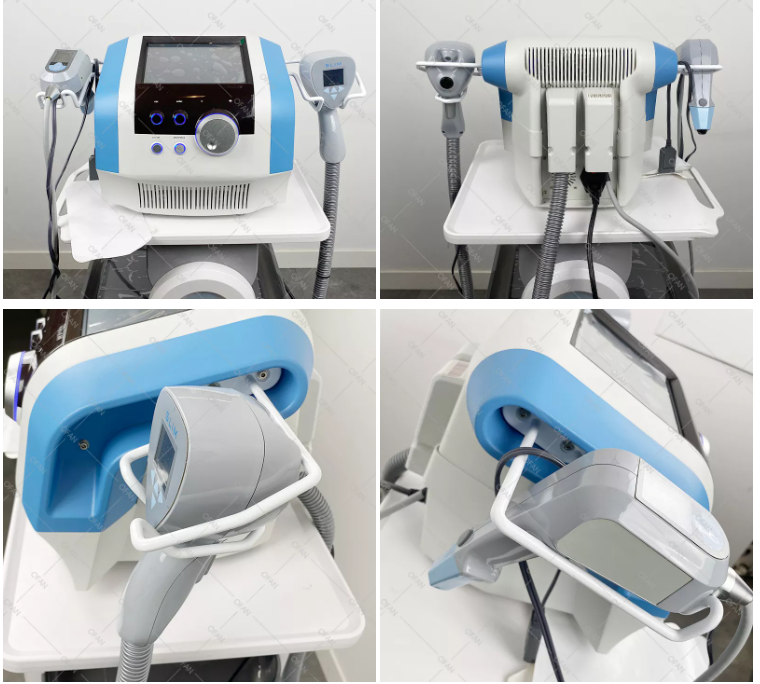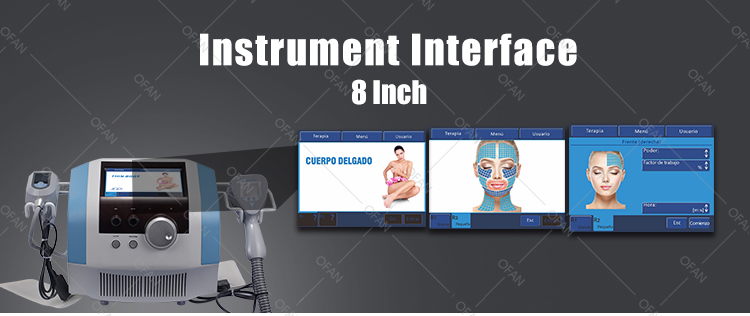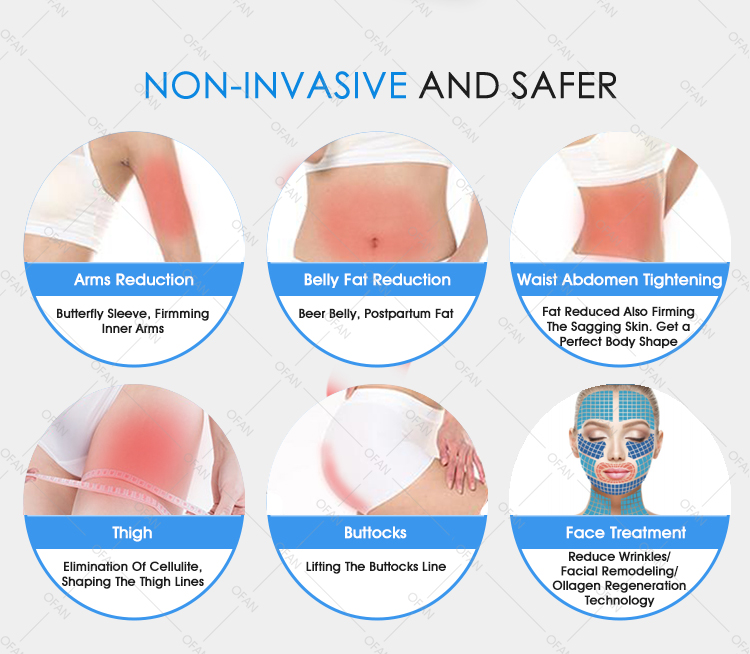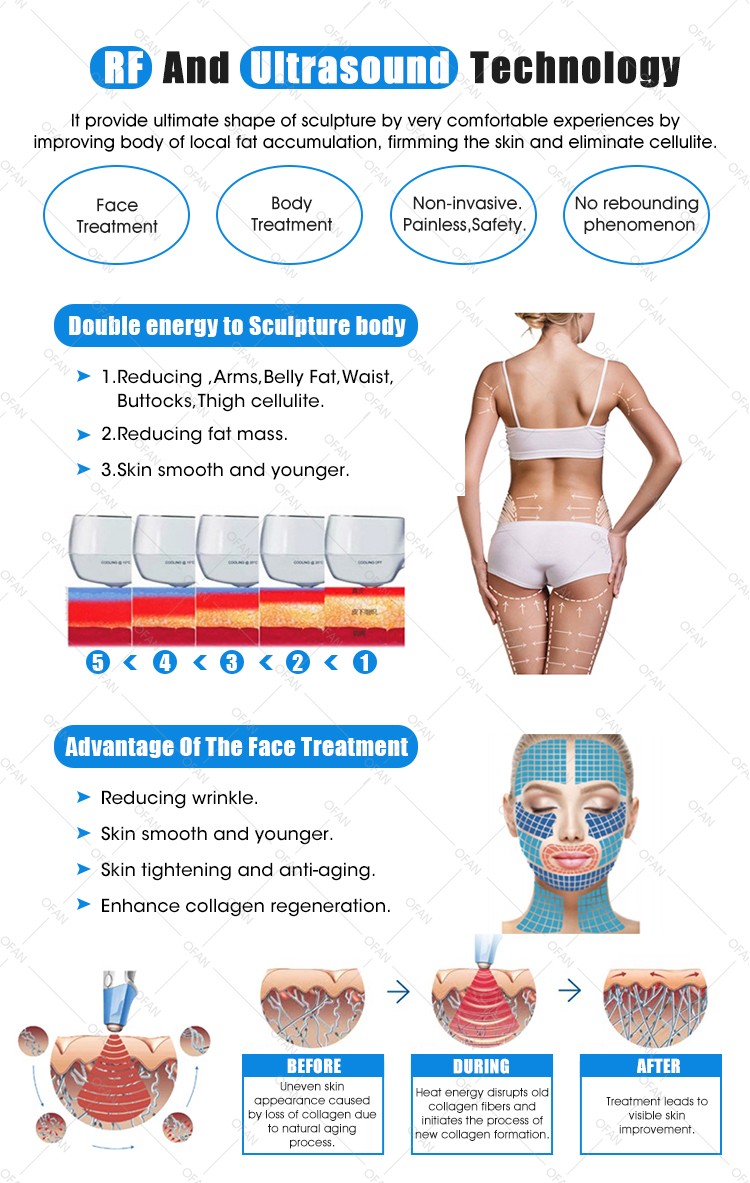 2 in 1 RF and ultrasound;
Non-touching, Non-invasive, No surgery, No downtime;
Safty: Skin temperatures are controlled throughout the entire session for utmost safety;
Painless: Controlled heating and cooling ensure that energy is delivered to various depths in the tissue without pain;
Effective: A simultaneous delivery of RF and ultrasound provides patients with a more clinically effective treatment;
Comfortable: Patients none discomfort can literally resume exercising or return to work immediately post the therapy;
Significant effect: Patients in many clinical studies have reported outstanding outcomes in body shaping and tightening;
Accurate: The unique EFC™ (Energy Flow Control) ensures the optimal level of power is delivered to the target tissue at all times;
Flexible operation: Changing power and cooling during treatment allows the operator to treat deep tissue all the way up to the superficial layer.
1. Skin tightening and wrinkle removal of the face, neckand body areas;
2. Contouring of abdomen, thighs, arms, leg and most areas of the body;
3. Effective at reducing both wrinkles and fat deposits that resist diet and exercise.