Coolsculpting Machine For Home Use video:

360 Cryolipolysis Main efficacy:
1、Remove the waist, abdomen, legs, arms, back and other parts of fat;
2、Solve cellulite problems caused by cellulite and cellulite;
3、Firming tissue to prevent relaxation;
4、Promote metabolism and blood circulation;
40K CAVITATION
direct into the fatty layer, speedily vibrate deop-seated cellulite, produce numberless vacuum cavitation, mightily strike the fatty cells. let them produce inner cracking, and dissolve to be the free fatty acid.
BODY RF
uses proprietary technology to create a highly efficient and tightlly woven energy matrix. This dense energy matrix ehetrates multiple lavers of the demmis heating it from the inside out. Complete skin penetration ensures exponentially improved clinical efficacy and products clearly visible results.
FACE RF
RF radio frequency is one kind of high frequency electromagnetic wave. It can enetrate the dermis and subcutaneous tissue. Face RF can be used for face lfting, wrinkle removal.
360 Cryolipolysis LIPO LASER
utilizes the latest low level/cold laser technology to reduce girth and spot fat over almost all areas of the body without urgery, downtime or redness. A typica 10-minute waistine treatment can redure an individual by to of an inch while a full protocol of eight treatments usually results in multiple inch Ioss.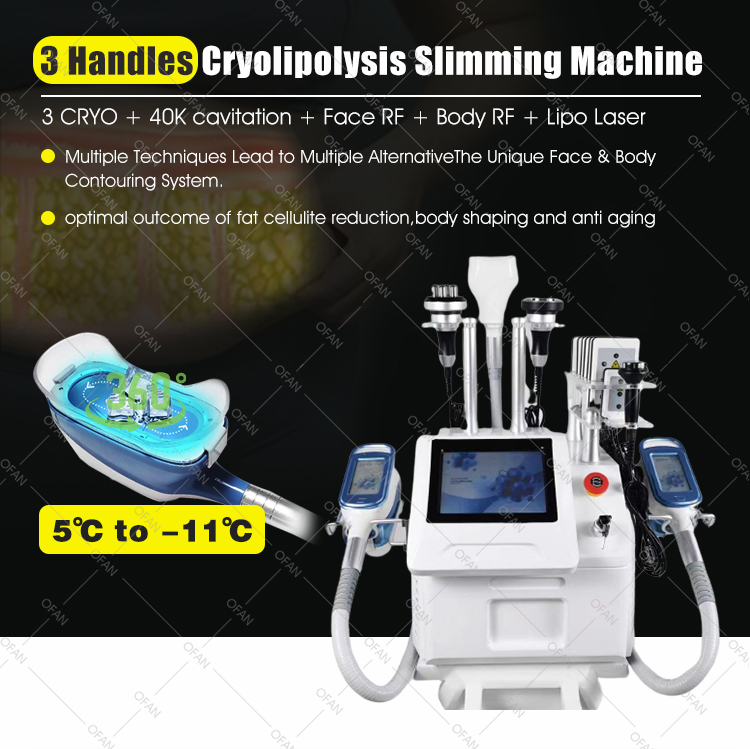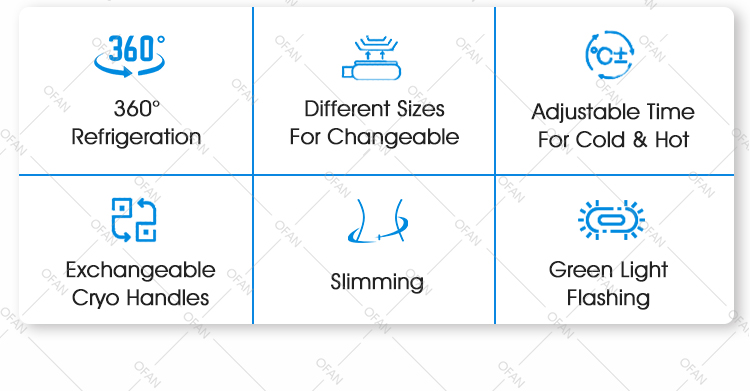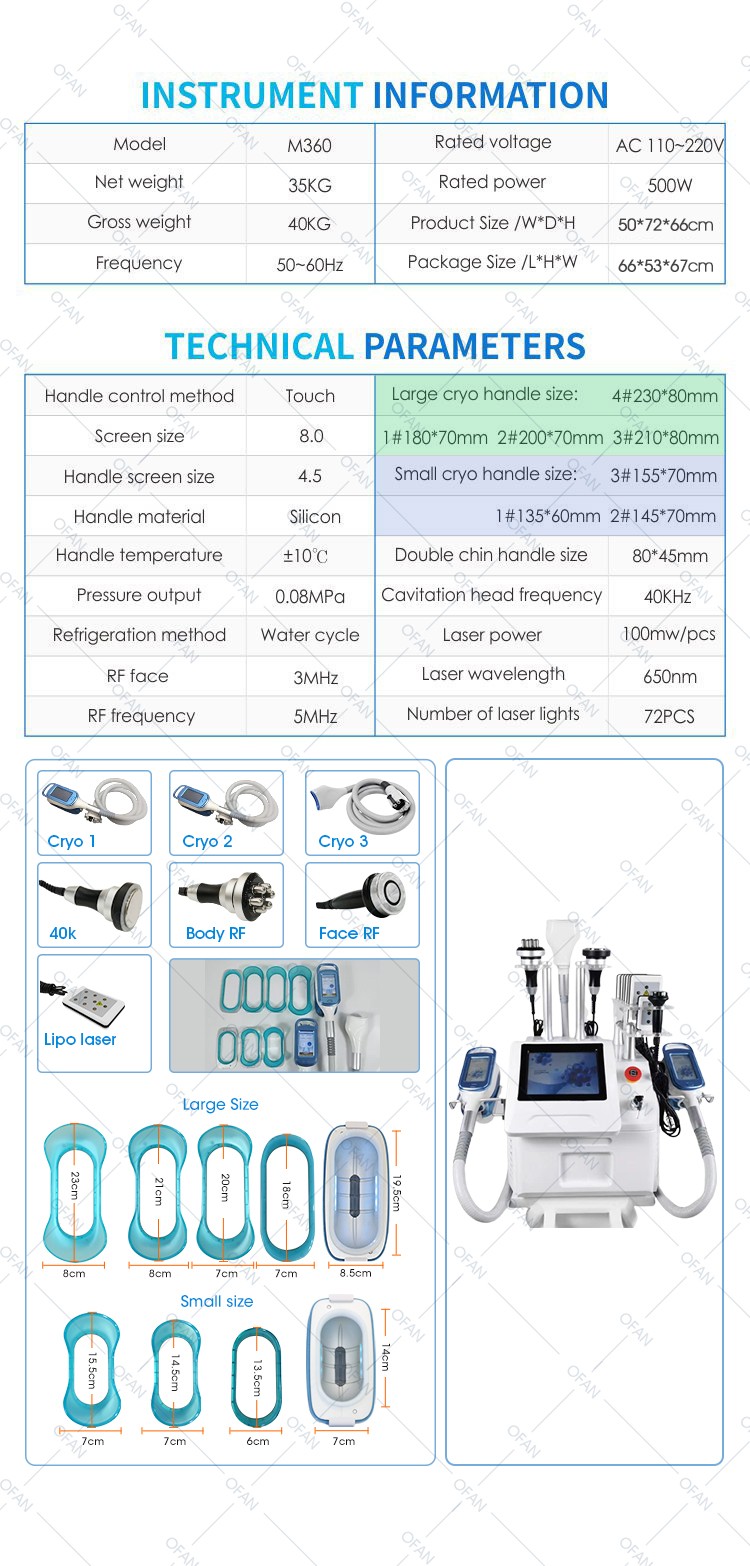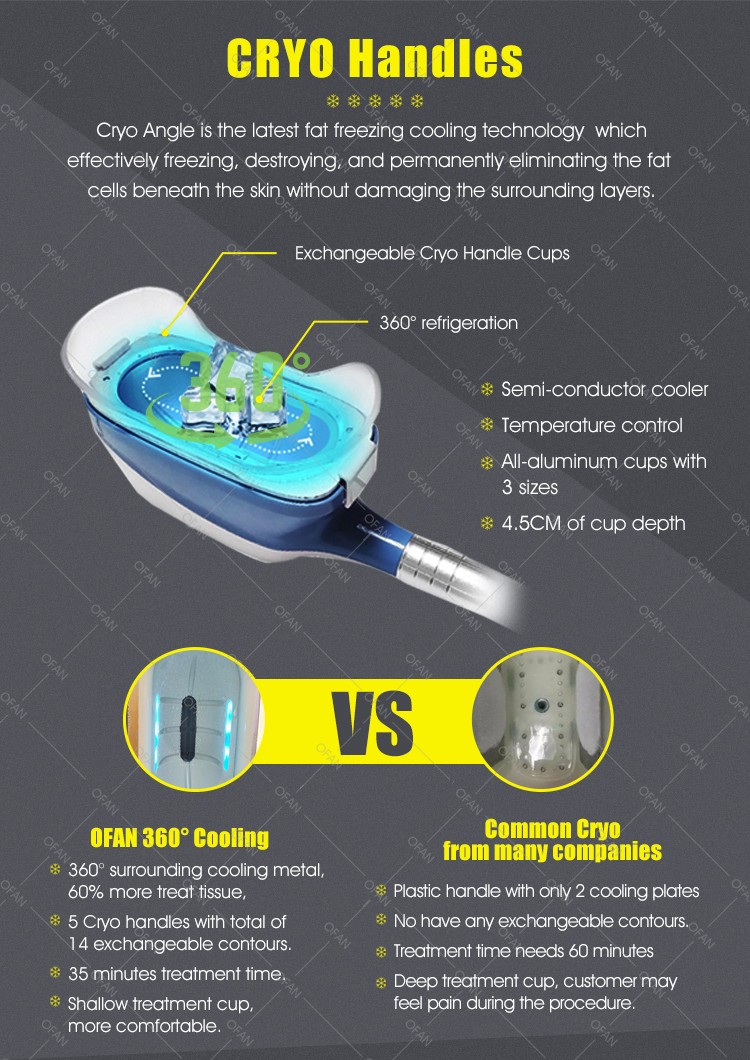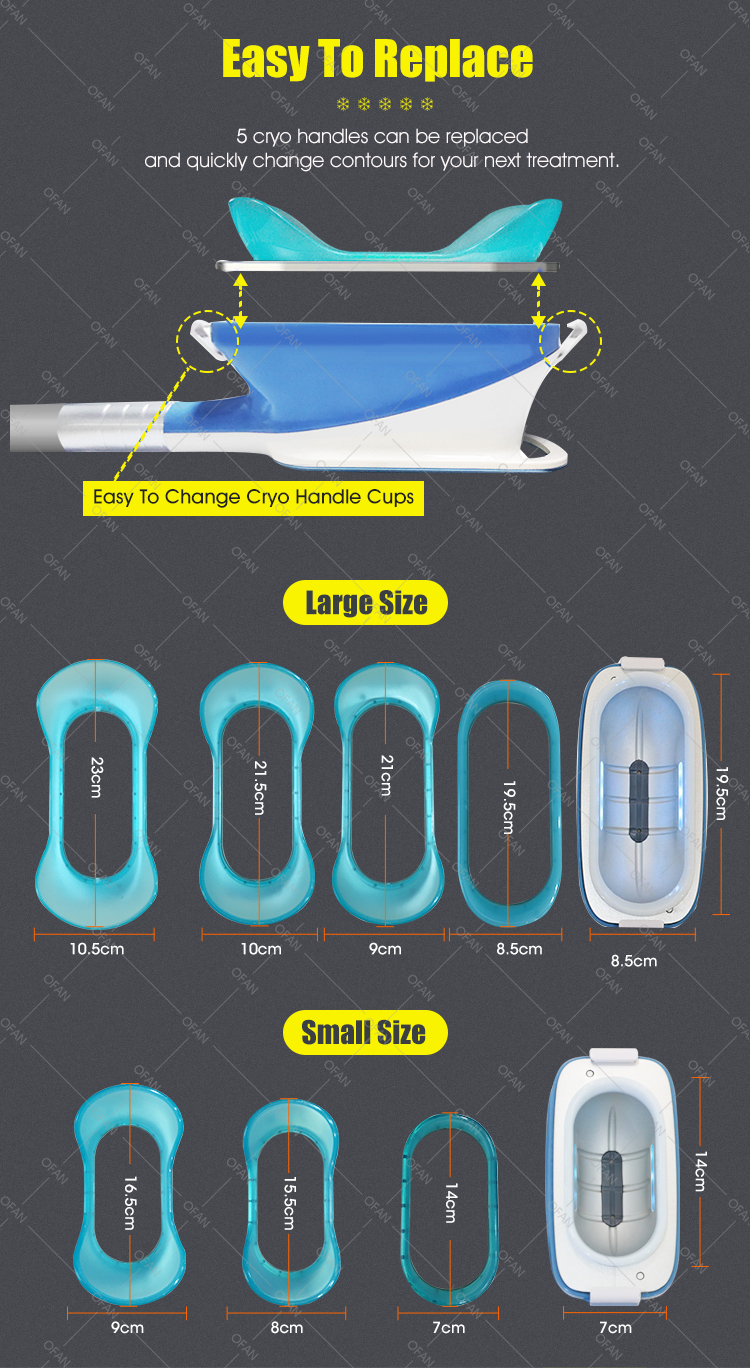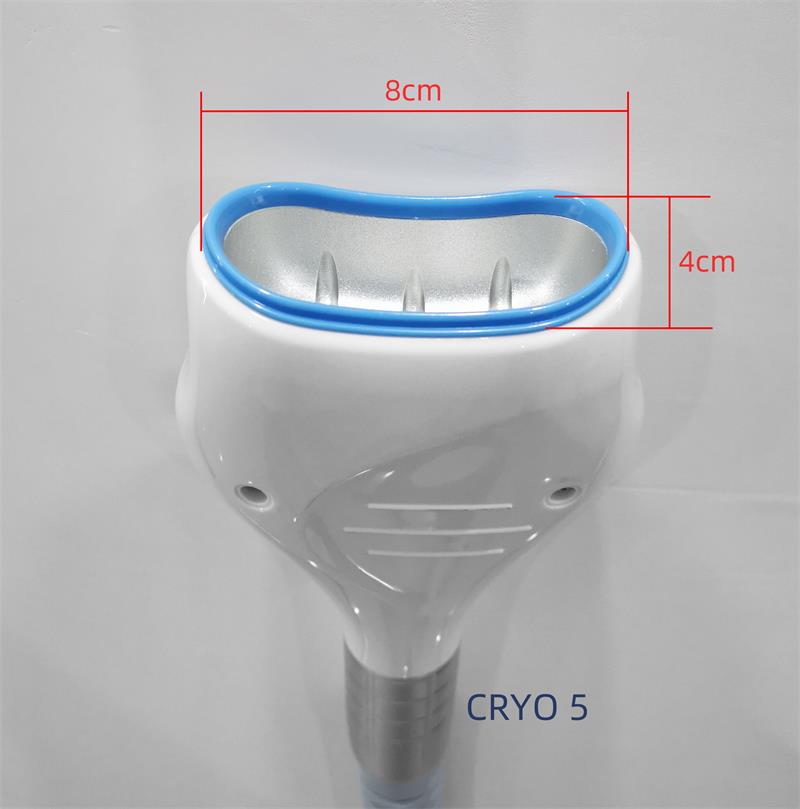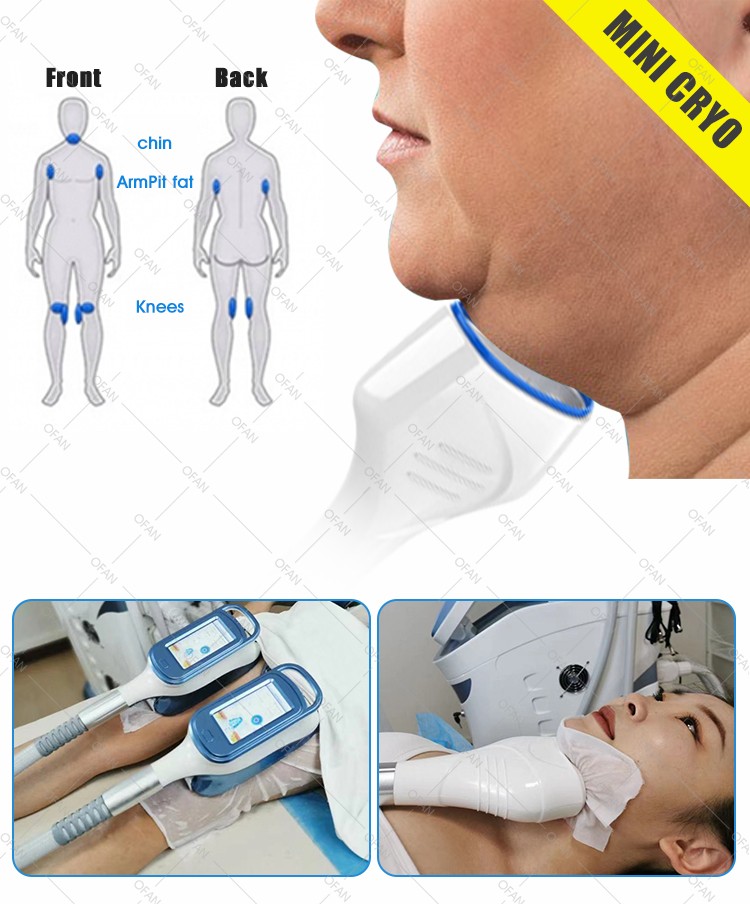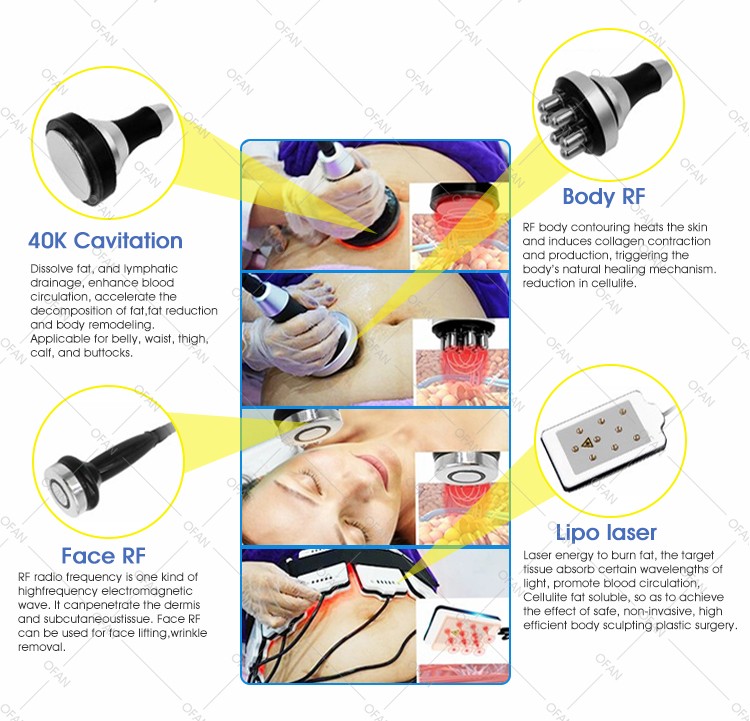 Main Efficacy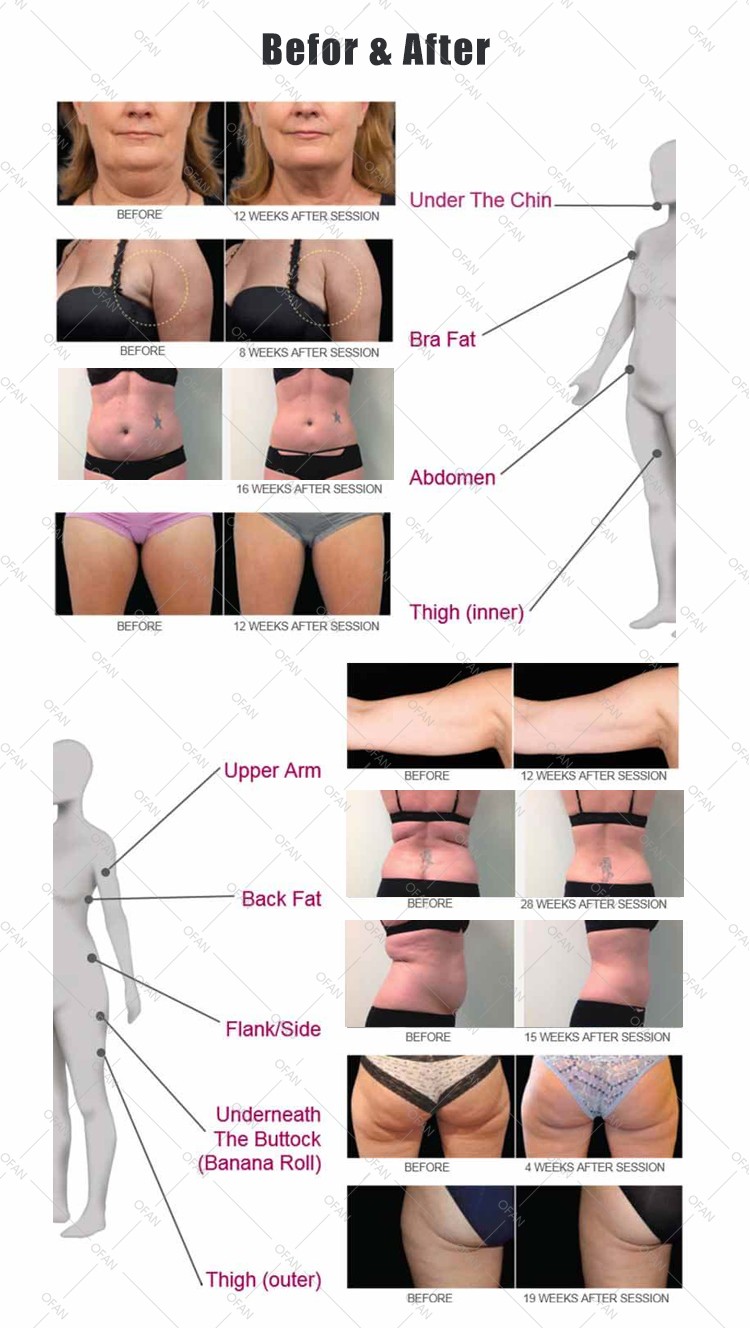 What is Cryolipolysis Technology?
Cryolipolysis, also known as CoolSculpting or Coolshaping is a new, FDA-approved fat reduction alternative for people with low fat mass who are resistant to diet and exercise.CoolSculpting is a completely non-invasive in-office procedure that uses Cryolyposis to target, freeze and permanently eradicate fat cells.
How does CoolSculpting work?
This fat reduction technique works through a method called cryolipolysis, which is used to selectively target and freeze fat cells in the treated area. The process is performed using a small cooling device that is placed in the area to be treated for approximately 1-2 hours. After some initial tightness and pressure is felt in the treated area, the area becomes numb and barely noticeable to the patient. During the procedure, patients can work on their laptops, read, listen to music or even nap. the CoolSculpting system targets and freezes the fat cells in the treatment area, thereby destroying the fat cells, which are then naturally absorbed and eliminated by the body. There is no downtime and patients can immediately return to their daily lives, including work or normal fitness activities.
Who is a candidate for the coolsculpting procedure?
Coolipo S treatment is ideal for people with fat. It is not suitable for people with less than 1cm of fat depth in the treated area. In addition, it is not suitable for people who are pregnant, have clotting disorders, have a history of cancer and related diseases, or have a cardiovascular device installed. Pacemakers.
What happens to the fat in the treated area?
Destroyed fat cells in the treated area are reabsorbed by the body over the next 12 weeks. The dead fat cells are naturally excreted from the body, permanently removing the damaged fat cells from the body and leaving a slimmer waistline.
How long do the results last?
Fat cells do not return to the treated area as long as no additional weight is added. The treatment does not prevent the development of new fat cells and patients are encouraged to continue to balance a healthy diet and exercise to maintain results.
How many centimeters can I lose in girth?
In clinical studies, patients report an average reduction of 1-3 cm in 1 treatment session. Nevertheless, results can be highly individualized, ranging from subtle to significant changes depending on the patient's physical status prior to treatment and the patient's adherence to a healthy lifestyle. Patients may lose 0.5" to 3" after treatment, but even exceeding these results is not unreasonable.
What to expect immediately after treatment?
After the applicator is removed, the treated area may look or feel stiff due to a brief whitening (temporary lightening). In most cases, the treated area will be red and will subside within a few hours. You should also expect minor bruising, swelling and pressure, which will subside within 1-2 weeks. Immediately after treatment, you may feel nauseous and/or dizzy for a few minutes as your body naturally warms up and feels back to your treated area. Numbness or a "sluggish" feeling in the treated area is common and usually subsides within a few days, but may last for several weeks. Sometimes, you may experience more mild pain and cramping on the day of your procedure. You can take Tylenol as needed, use a hot compress or massage the area with a soothing agent such as aloe vera or pain relief cream.
How is Cryolipolysis fat freezing different from other fat reduction techniques?
Fat reduction treatments that use lasers, heat or even surgery to remove fat can actually destroy other tissues in the area by burning, destroying or removing non-fat cells. This requires downtime and days off work or school to allow your body to heal. the great thing about Cryolipolysis is that it freezes fat cells without burning, destroying or damaging any other tissues nearby. The fat freezing process only kills the fat cells under the skin, effectively freezing them to the point of elimination. Your healthy skin cells and tissues are not harmed. There is no knife. No suction hoses. No needles. No scars. Once the fat cells are frozen, they will crystallize and naturally drain from your body. In a few months, you will enjoy the body you once had.
What is the difference between Cryolipolysis and Liposuction?
Liposuction is a surgical procedure. This means it requires anesthesia, several incisions and recovery time. The cryolipolysis process is completely non-invasive. Cryolipolysis does not involve needles, incisions or downtime. Because liposuction involves surgery, there are also risks and complications. Infection and fluid buildup at the incision site may lead to poor results from liposuction.
Cryolipolysis, on the other hand, is safe and low risk. Some people may experience redness, minor bruising, tingling, numbness or discomfort in the treatment area, but this is temporary and will completely subside on its own. Since there is no downtime for Cryolipolysis, you can return to your normal activities immediately after treatment.
Cryolipolysis is safe and effective. Most importantly, it works. Results look natural and can be seen as early as three weeks after treatment, with the most dramatic results after one to three months. Most people can wear those skinny jeans back after just one treatment. What's more, there are no pills or supplements. As long as you maintain a normal diet and exercise, your long-term results should remain stable.