Products video:
OFAN is a Chinese original manufacturer of beauty equipment with excellent result performance/competitive price/optional outlook/new product trend; professional OEM/ODM team with 13 years of experience. So it's very cost effective if you need to order this 6 in 1 cavitation machine!
Learn more about the 6 in 1 cavitation machine from below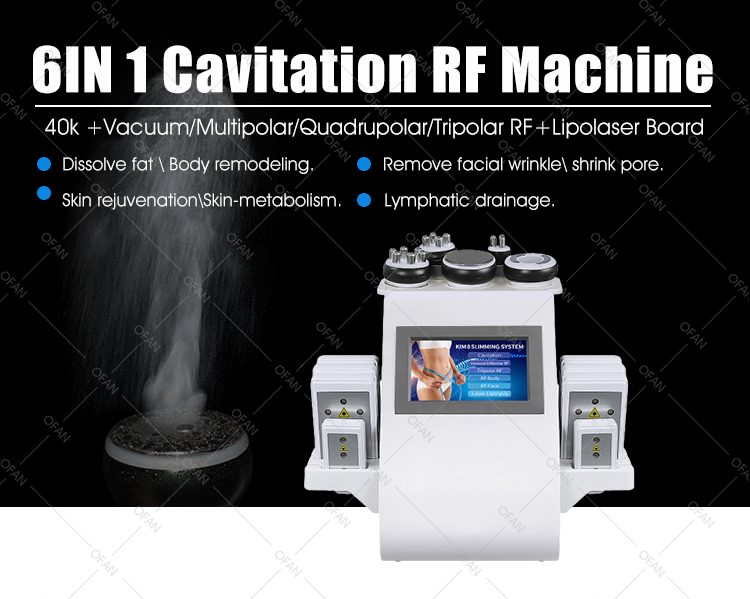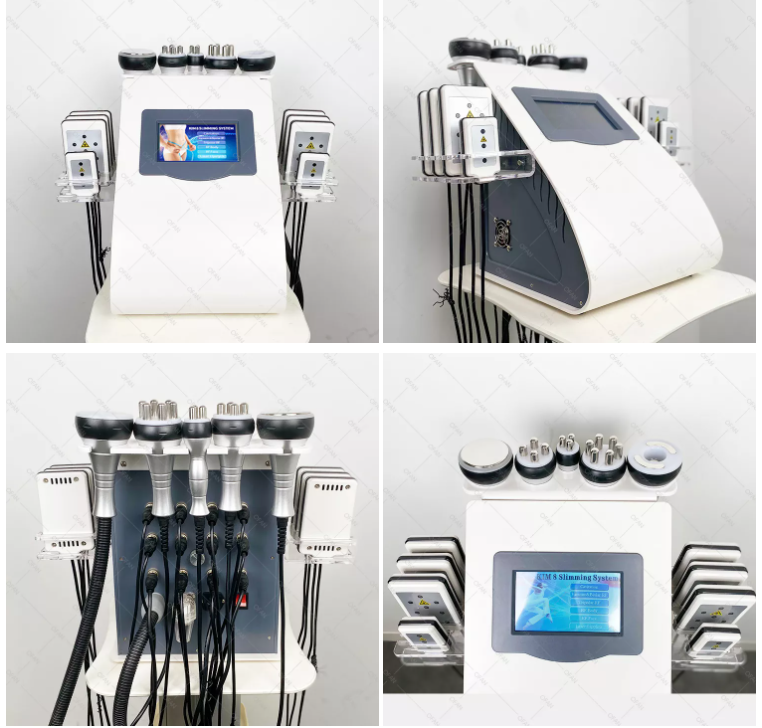 6 In One Cavitation Machine Features:
1. Painless treatment focus RF energy at the correct position,compared to other radio frequency technology .it uses low energy and high frequency,safe and effective.
2. Aim at the skin surface and deep location,using a complex method to control the different currents and energy,direct access to the different skin layer. Does not cause the phenomenon of uneven skin.
3. Selectively targeting fatty tissue,to avoid heating other fat,to achieve the fastest treatment effect.
4.The entire process is completed without the need of surgery and anesthesia.
5. With the most useful 40KHZ ultrasonic cavitation system.
6. Without side effects and the risk of gaining the weight back, the results are rather obvious. Does not affect the normal work and life.
7. Color touch screen.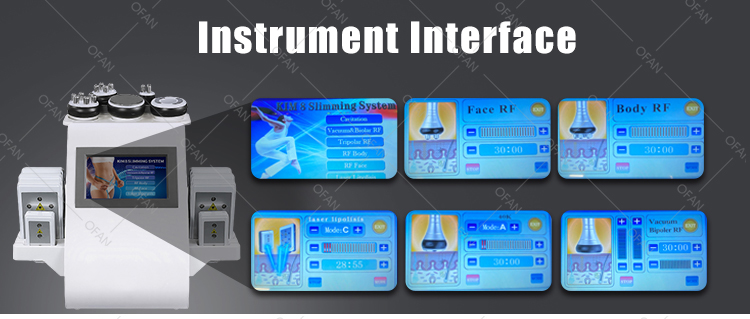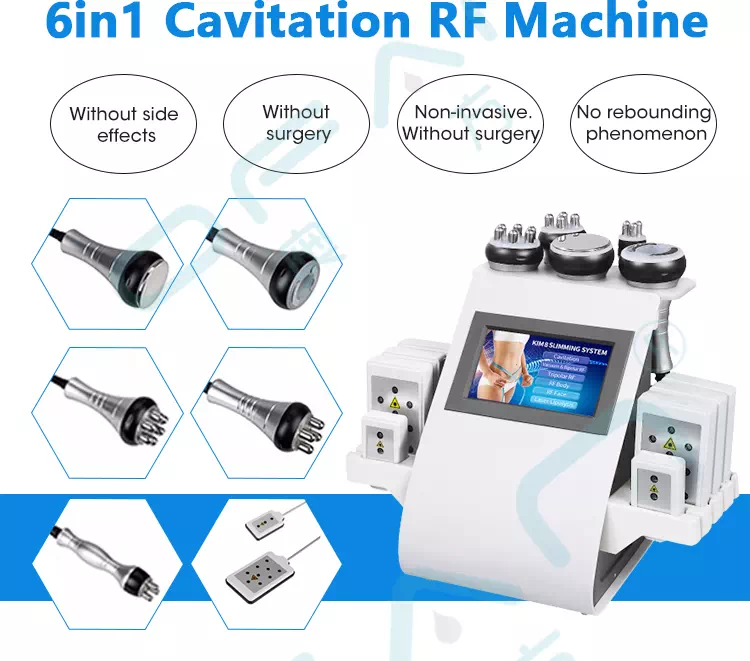 6 In One Cavitation Machine Functions:
*Firming the arms, legs, thighs, buttocks, waist, back, abdominal muscles and reshape the body figure.
*Improve and treat the orange peel like fatty tissues of different serious levels.
*With the effects of soothing, decompression and pain relief (such as joint pain, sciatica), promote the regular mechanical aerobic exercise of skin tissue, rapidly relieve stress and remove fatigue.
*Firming, lifting and compact the skin and mould the face shape circulate and activate cells, promote metabolism and so that 100% more collagen and elastic fibers may be gained for improving the facial and body skin.
40k cavitation probe handle
Powerful explosive fat, crack fatty cells, deliquescent adipose, reduce the amount of fat cells.
Vacuum RF Bipolar handle
Make fat cells in fast active state, so that cells will produce friction heat ,then surplus fat andvivotoxin of body inside can be discharged.
Six-polar RF handle
Further dissolve fat,Help to expel the redundant fat and toxin out of body through sweat gland and hepato-enteric circulation.
Four-polar RF handle
Dissolve fat;Lymph drainage;Tighten skin;Enhance skin elasticity.
Tri-polar RF handle
Shrink pouches. Dispel black rim of the eye.relax eyes.
Lipolaser Board
Enhance fat decomposition and lymphatic drainage.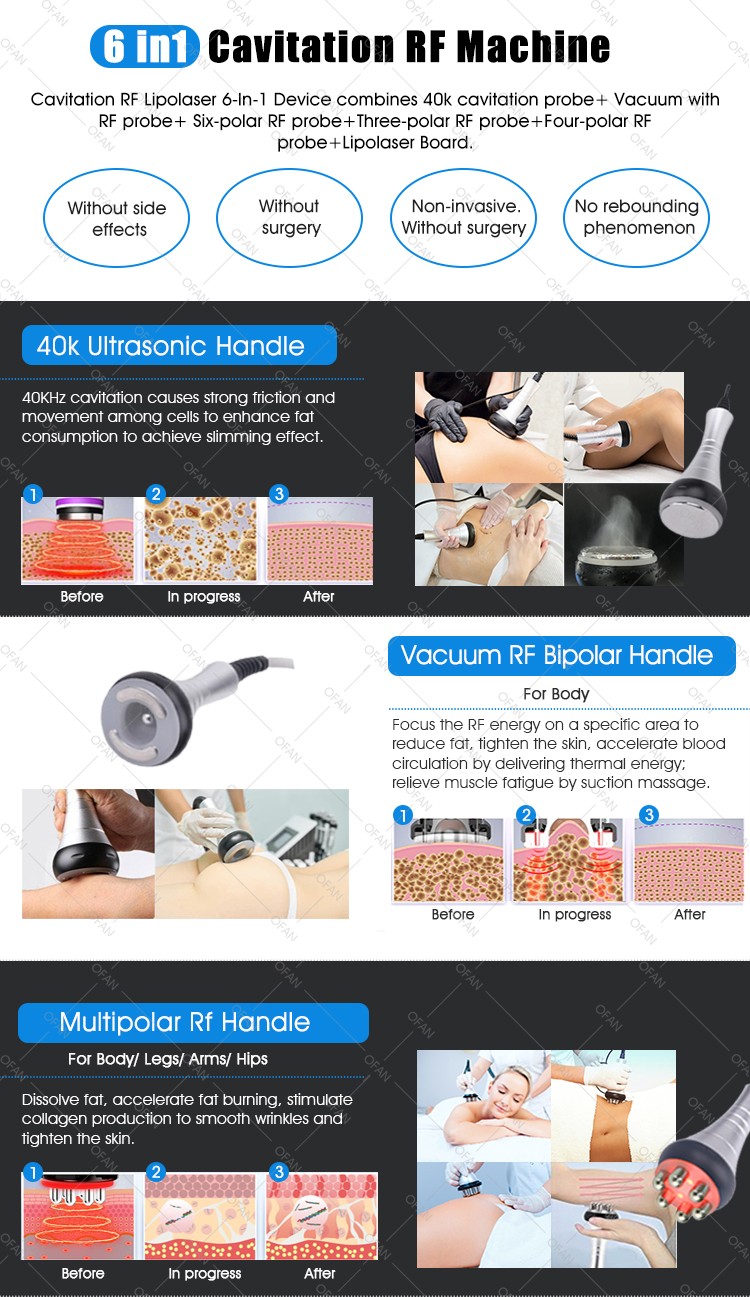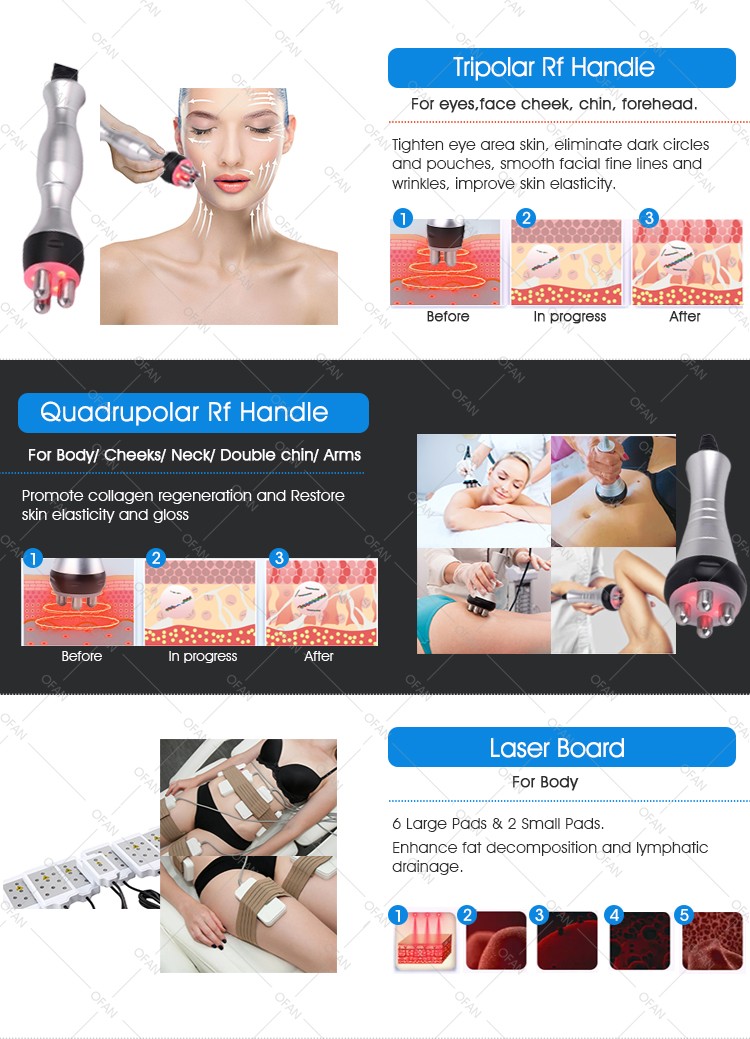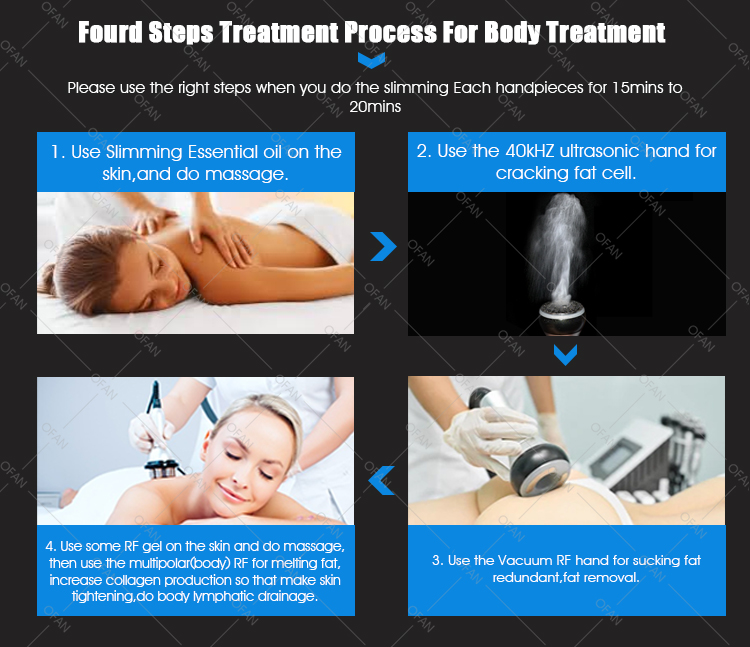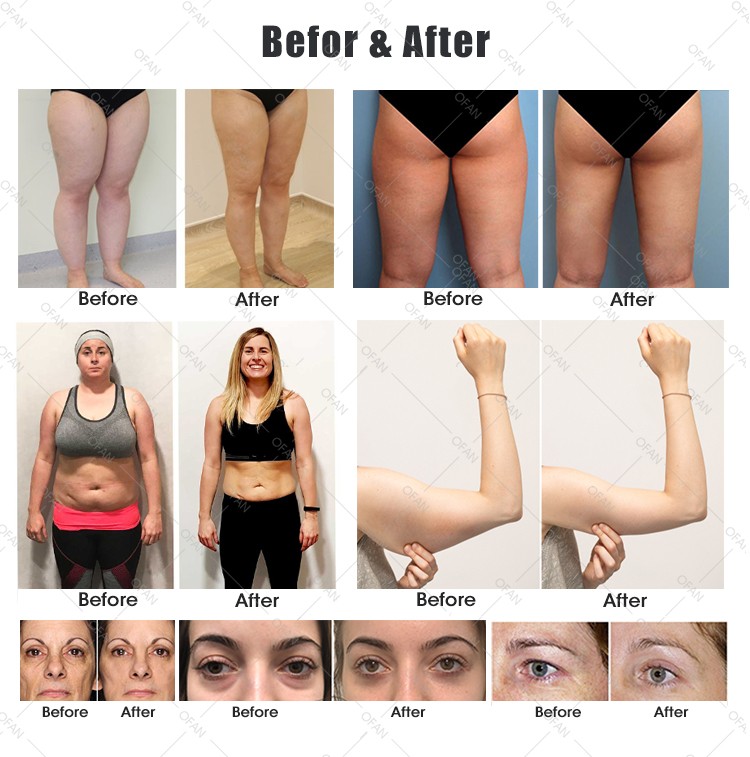 How long are the treatments and how many times should I have them?
Each treatment lasts approximately 30 to 50 minutes
It is recommended that they be performed every 72 hours to allow enough time for the fat to be completely removed from the body.
Although you can have up to 12 treatments, most clients do 8 to 12 before they achieve their desired results.
Is there anything I need to do before or after the treatment?
Drink plenty of water (at least 1.5 liters) within 1 hour prior to your treatment and please drink 1.5 liters of water immediately after your treatment.
We also recommend that you eat fewer low-calorie foods and minimize your carbohydrate and fat intake at least 24 hours before eating.
This will help burn any fatty acids and glucose in your body.
After treatment, you will need to do whole body vibration training and light exercise to help the fat drain through the lymphatic system.
How much weight can I lose using the cavitation technique?
Typically, you can expect to lose 1 to 2 inches of fat after the first treatment and up to 2 inches after each subsequent treatment.