Cups Enlarge Breast Butt Vacuum Machine
Vacuum cupping: automatic suction and release, with cups of different sizes to perform physical massage on breasts and buttocks, dredge meridians and promote blood circulation, solve the problem of expansion and sagging, enhance elasticity, firmness and roundness of the breast as well as promote the shape of hips, with newly-added 21cm XL buttock lifting cups. It can also perform scraping and cupping functions on shoulders, back, etc to reduce fat and relax muscles.
Benefits

1、The vacuum pump can absorb fat particles and fluid, which can then enter the breast tissue and cells, making the breast more developed.
2、 Expel toxins, purify lymphatic system, refine skin pores, reshape skin, improve microcirculation, and enhance collagen elasticity.
Lift sagging muscles, resist wrinkles, activate skin, remove eye bags and double jaws, eliminate wrinkles and telangiectasia and treat sub-health.
3、Stimulate the pituitary to generate hormones, enhance the elasticity and fiber of muscle tissue, restore the elasticity and softness of the breast, lift the breast, improve the shape of the breast, improve the nipple, and maintain the therapeutic effect.
4、Accelerate the conversion of fatty acids, safely and effectively remove excess fat, reduce weight, slim down, eliminate excess belly fat, improve the shape of legs, tighten the skin, can be used for scrub, acupoint tapping therapy, lymph drainage, fat treatment, improve the buttocks, to achieve a perfect body outline.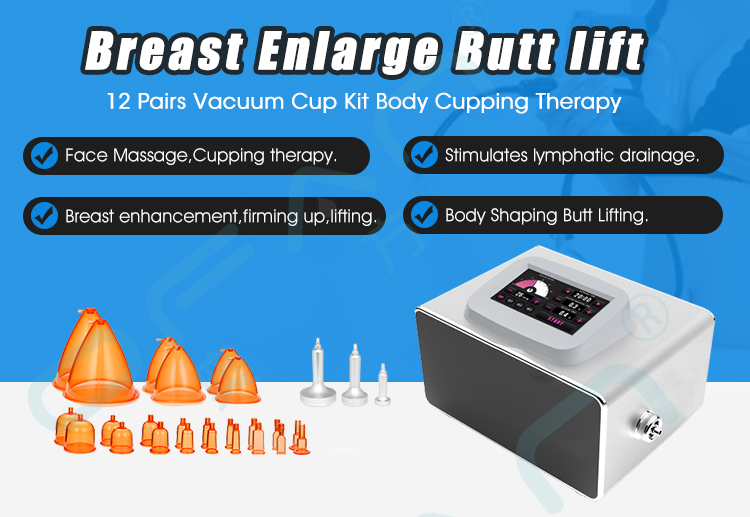 Function:

Breast enlargement

Improve breast shape

Purify lymphatic system

Eliminate wrinkle

Enhance skin elasticity

Hip lifting
Advantage:
No side effects.

One machine can achieve many effects.like breast enlarge, face and body Lymphatic detoxification, Massage, buttock lifting, firming thigh.

Portable, easy to carry, simple to operate.