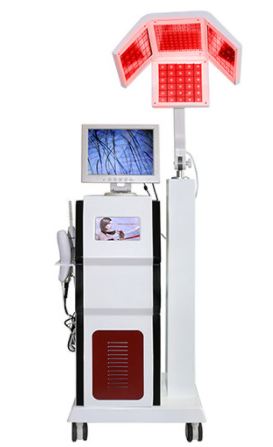 If you're looking to grow your hair and prevent hair thinning, laser hair therapy may be for you.
Hair Loss: The Basics
Male pattern baldness, the type of hair loss that affects men, is caused by the androgen hormone DHT. If you're genetically predisposed to male pattern baldness, DHT can stop your hair follicles from producing new hairs, causing thinning and total baldness.
Most science-based treatments for hair loss work by either blocking androgens such as DHT, or by stimulating the growth of new hairs.
Laser hair growth treatments claim to work by increasing blood circulation in the scalp and stimulating the growth of new hairs.
Some scientific studies have found that laser hair growth treatments are effective, while others have produced mixed or inconsistent results.
How Do Laser Hair Growth Treatments Work?
Before getting into the specifics of laser treatments for hair loss, it's important to quickly go over the basics of how and why hair loss occurs.
There are several types of hair loss. However, the most common, and the one that's usually the most concerning for men, is male pattern baldness -- a type of permanent hair loss that causes a receding hairline, thinning, and, for some men, large-scale hair loss across the scalp.
Male pattern baldness is caused by a genetic sensitivity to the hormone dihydrotestosterone or DHT. If you're genetically predisposed to hair loss, DHT can weaken your hair follicles over time and cause everything from a mild receding hairline to large-scale hair loss.
We've explained the relationship between DHT and your hair in greater detail in our full guide to DHT and male pattern baldness.
Laser hair growth treatments, or low-level laser therapy (LLLT), aim to improve hair growth and treat hair loss by improving circulation and stimulating the growth of new hair.
Research over the years has shown that near-infrared or red laser light can promote the repair and regeneration of tissue. Because of this, laser therapy is often used for wound healing and several cosmetic skin treatments.
Most laser hair growth devices work by emitting a light that penetrates the scalp. Although the scientific research is limited, proponents of laser therapy believe that this may enhance blood flow and stimulate hair growth.
Who is a good candidate for laser hair regrowth?
In general, laser hair therapy is meant for men and women with all lengths of hair that are noticing thinning. This would potentially mean they are in the early stages of hair loss.
Low-level laser therapy works best for people with androgenetic alopecia and can promote hair growth in males who have Fitzpatrick Skin Types I to IV and Norwood Hamilton classifications of IIa to V, and in females who have Fitzpatrick Skin Types I to IV and Ludwig (Savin) I-4, II-1, II-2 classifications, or frontal patterns of hair loss. (Receding hairlines, etc.)
Do Laser Hair Growth Treatments Actually Work?
At this point in time, there isn't enough high-quality scientific research to confidently state that laser hair growth treatments are or aren't effective.
The first scientific research into laser treatments for hair loss was performed by chance in the 1960s when scientists studying mice noticed that they began to grow hair after exposure to a low fluence red laser.
In the decades since, various studies have aimed to determine whether or not lasers actually help to stimulate hair growth and treat male pattern baldness.
Overall, the results are mixed but largely positive. For example, a review of scientific research published in 2014 concluded that laser treatments for hair loss seem to improve certain types of non-scarring hair loss, including hair loss caused by male pattern baldness.
Another evidence-based review published in 2016 found that several moderate to high-quality studies showed that laser therapy devices were safe and effective in people with male pattern baldness.
A more recent scientific review published in 2018 found that 10 out of 11 studies of laser hair treatment devices showed significant improvements, with one study indicating improvements but not reaching statistical significance.
Finally, a scientific review published in 2020 concluded that laser hair therapy appears to be effective, with a good safety profile and minor side effects. However, it also noted that some research appears to be associated with the laser hair device industry.
Types of Laser Hair Growth Treatments & Devices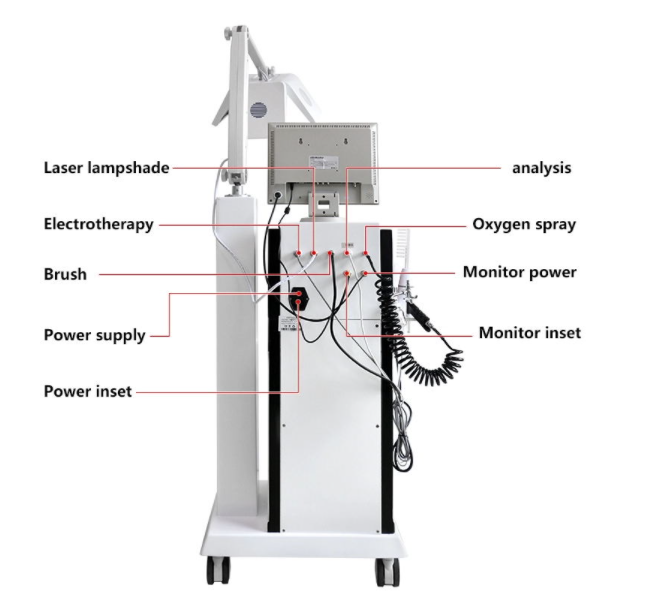 A variety of different laser hair growth devices are available today, including caps, helmets, and combs that use laser technology.
One of the most effective is the OFAN Hair/scalp Care device. Here are the advantages:
200X(can help analyze hair condition)
High-frequency electrotherapy instrument function is as follows: sterilization, treat hair follicle cavities and inflammation, promote the hair follicular scalp wound healing; reduce and adjust the excessive secretion of sebum, promote metabolism; Promote lymph and blood circulation, improve the regeneration of hair follicle cells; Due to the current conduction electrode generated by the vibration, also have the effect of calm and message on the scalp.
Phototherapy brush (Stimulate scalp, promote blood circulation)

To improve the synthesis of collagen, strengthen the elasticity of the scalp. Tighten strengthen scalp muscle elasticity, clear toxin metabolism, and entrapped liquid of scalp, eliminate fatigue, restore scalp heal.

Oxygen Spray W. nutrition ampoule
Give scalp a deep moisturizing and increase the water content of scalp; Promote skin cells regeneration, promote the healing of hair follicle holes, increase the oxygen in the scalp, activate hair follicles; Promote the regeneration of the skin collagen and elastin, soothe sensitivity, relieve swelling and inflammation of the scalp phenomenon; Supplement energy, improve microcirculation and scalp respiratory system, improve containing oxygen and the metabolism of hair follicles.
We are a Hair/scalp Care device supplier, please feel free to contact us if you need them!